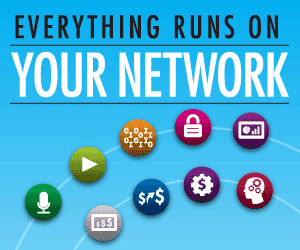 For my kids, their annual "I cannot wait!" moments are the Christmas holiday and their birthdays. For football fans (American football, that is), Super Bowl Sunday is "the Big Day." For me, the annual journey to Barcelona, Spain and Mobile World Congress has become something like a holiday that I look forward to and get excited about attending.
The big theme at #MWC16 is "Mobile is Everything." With a theme like that, I expect to see tons of information about the evolution of networks and the underlying technology that enables our mobile world. I also expect to hear about the emergence of the Internet of Things, and it is a pretty safe bet that we will hear more than one "5G defined" presentation.
I really look forward to sharing CommScope's vision for many of these topics at #MWC16, too. Our theme at the event is a three-part, tie-in to the MWC theme, which reads "Mobile is Everything > Everything Runs on your Network > Your Network Runs on CommScope." (See what we did there?) But, you may be wondering, what are we showcasing in the CommScope booth?
You may have heard that CommScope acquired the Telecom, Enterprise and Wireless businesses of TE Connectivity last year. We are demonstrating parts of our expanded portfolio of innovative wireless solutions powered by fiber connectivity at the show. I am particularly looking forward to sharing our ideas about how CommScope can enable the evolution towards Cloud-RAN (C-RAN) with our fiber solutions and enclosure technology, and how we can expand our backhaul solutions with fiber connectivity to complement our comprehensive lineup of microwave antenna technology.
It's not unusual to hear a CommScope technologist talk about solving the big three challenges of power, backhaul and site acquisition. We plan to talk about those issues again this year as well as showcase two unique power solutions for outdoor site applications: the PowerShift solution for fiber to the antenna applications and the Powered Fiber Cable System for creatively providing power and fiber connectivity in one comprehensive solution.
So how can mobility be everything if mobility is not everywhere? Last year at MWC, we provided an update on our universal wireless infrastructure platform, the ION-E, in our mission to bring mobility into larger enterprise locations. This year, we will feature our newest small cell solution, OneCell C-RAN Small Cells, aimed at even deeper and easier implementation into small and mid-size enterprise locations. OneCell is a very interesting technology and an innovative solution aimed at top-notch quality of service with simple, intuitive and intelligent optimization.
Check out this press release for a more detailed view of what we will be showcasing. And, if you are at #MWC16, stop by and visit CommScope in Hall 2, stand #2J30. Our technologists will be on hand ready to talk about the evolution of wireless networks. Come find me to talk about my vision of the network of networks (sounds fun, right?) and continuing the journey of making mobile everything!