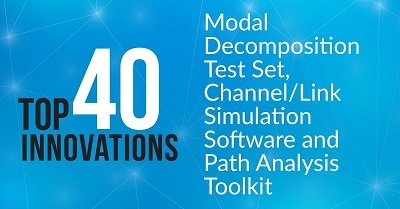 Note: As part of its 40th anniversary observance, the CommScope team set out to identify the top 40 innovations that have come from CommScope (or one of its acquired companies) over the past 40 years. We are unveiling the innovations chosen for the Top 40 on CommScope Blogs through early January. Read more about the overall program and selection process in this November 4 post.
We continue today with our unveiling of innovations—in alphabetical order—that are ranked 11-20. You can see a list of the Top 40 innovations already revealed on our 40th anniversary page. As our 40th anniversary year draws to a close, we hope you enjoy looking back at what we think are our top innovations—ones that have helped build the world's infrastructure of today and tomorrow.
Have an opinion about or connection to any of the innovations? Leave a comment below.
CommScope's Top 40 Innovations—Grouping 11-20
Modal Decomposition Test Set, Channel/Link Simulation Software and Path Analysis Toolkit
Definition: A modal decomposition test set measures individual cabling components such as cable, cordage and connection (mated plug and jack) separately, then cascades them using a pre-determined configuration mathematically. A sizable number of simulations (more than 1,000) can be done within a short period of time, far beyond what was practical to do with physical channels at the time.
Year of the Innovation: 2000
What is the innovation that CommScope or one of its acquired companies was first in creating?
In 2002, Avaya's Connectivity Solutions business (now part of CommScope) introduced the Modal Decomposition Modeling (MDM) platform. This powerful simulator allows CommScope to assess the link and channel performance much more accurately than what the cabling industry had adopted at the time. Path analysis toolkit is utilized to reduce the number of prototype iterations by mathematically changing the property of the targeted connecting hardware.
The test set together with the software enabled the company to quickly and accurately assess the electrical performance of copper cabling solutions, reduce the number of prototype iterations and provide a statistical base for our performance claims.
What was happening in the market that this innovation was needed?
High performance cabling comes with stringent specifications for insertion loss, return loss and crosstalk. It also requires a robust noise immunity from the environment.
In fact, in most channel claims in the industry, a certain number of physical channels are constructed and tested to verify the performance of the system. These numbers tend to be rather small – often 10 or fewer channels are tested due to the time and expense of constructions. Statistically speaking, these few channels are really insignificant and do not provide assurance of the system capabilities. Avaya developed a tool that allows us to fully and accurately characterize the electrical performance of our systems in thousands of different channel configurations.
How did this innovation benefit customers and the industry?
With the performance data of representative cabling components stored in the database, MDM can simulate any unique channel configuration to obtain the performance statistics before installation. Customers can have peace of mind knowing the performance of their installed cabling is guaranteed. MDM also sheds the light on the mode conversion property of all cabling components which was unknown to the industry at the time. It correlates with EMC (electro-magnetic compatibility) performance of cabling in "noisy" environments where multiple applications are running simultaneously.
Did this innovation act as the springboard for other innovations and, if so, how do they all tie together?
When we are able to see all electrical phenomena in a cabling system, we can design to optimize the performance of any network. Since every installation has its own unique design (every drop may have a different length of cable with slightly different component spacing), having the ability to model and predict performance with MDM gave Avaya a real edge in system design.
What is the significance of the innovation for CommScope?
MDM eliminates the need of bulk testing when it comes to performance assessment of cabling channels and links. The innovative technology revealed the importance of mode conversion parameters (balance) to the design of a Cat-6A UTP cabling system. TIA and ISO/IEC did not treat the balance terms seriously until we showed them our findings. CommScope is viewed as an industry leader based on our in-depth understanding of transmission properties and contributions to twisted-pair cabling.
Related links: