Note: As part of its 40th anniversary observance, the CommScope team set out to identify the top 40 innovations that have come from CommScope (or one of its acquired companies) over the past 40 years. We are unveiling the innovations chosen for the Top 40 on CommScope Blogs through early January. Read more about the overall program and selection process in this November 4 post. Monday, we began revealing selections—in alphabetical order—for Innovations 21-40 on the list, and we continue today and Friday with the remainder. As our 40th anniversary year draws to a close, we hope you enjoy looking back at what we think are our top innovations—ones that have helped build the world's infrastructure of today and tomorrow.
Have an opinion about or connection to any of the innovations? Leave a comment below.
CommScope's Top 40 Innovations--Grouping 21-40 (part 2)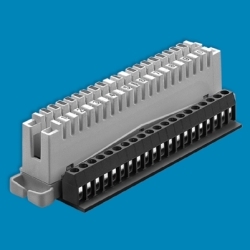 Krone LSA-PLUS IDC connector
Year of Innovation: 1978
KRONE LSA-PLUS (or simply KRONE block) is an insulation-displacement connector (IDC) for telecommunications. It is a proprietary European alternative to 110 block, a type of punch block used to terminate runs of on-premises wiring in a structured cabling system. Popularized in the United States by NYNEX (now part of Verizon), the KRONE LSA-PLUS system was not only an innovative alternative to 110 blocks but also popular in broadcast systems, where audio interconnections and their associated control systems often used KRONE wiring. LSA-PLUS is a German acronym:
Lötfrei (solderless)
Schraubfrei (screw-less)
Abisolierfrei (No insulation removal)
Preiswert (Cost-effective)
Leicht zu handhaben (Easy to use)
Universell anwendbar (Universal application)
Sicher und schnell (Secure and fast)
Unlike 66- and 110-style IDC punch blocks, KRONE contacts can be used with stranded conductors. The contacts use silver to inhibit corrosion. KRONE blocks are also available in versions which can handle frequencies much higher than conventional blocks. The LSA-PLUS was developed in Berlin by The KRONE Group, which was acquired in 2004 by ADC Telecommunications, now part of CommScope.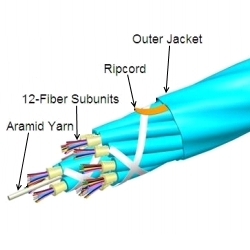 MPO fiber assemblies with round cordage
Year of Innovation: 2005
These patented assemblies facilitate the termination of round cable with loose fibers onto Multi-fiber push-on (MPO) connector ferrules, displacing flat ribbon based cable assemblies in the plug and play data center environment. This solution enabled efficient routing of MPO-based cable architectures in densely populated fiber distribution apparatus in data centers, compared to restrictive routing requirements for ribbon-based cable solutions. Direct MPO termination onto this new style cordage eliminated extended ribbonization prior to termination, and also eliminated loose-fiber furcation necessary to transition from legacy loose-fiber cable designs to the MPO connector. Both increased the efficiency of factory terminations, as well as improving installation with a more flexible cable. The loose-tube design also facilitated the introduction of CommScope's integrated Cable Mounting/Pulling Grip Gland, providing an interface for pulling and securing the assembly in the data center, as well as the unique ability in the industry to change the breakout leg lengths of the assembly after installation, in the field by the end user. The PMP-style loose tube cordage and related Round Boot MPO termination are widely accepted, and copied, in the industry.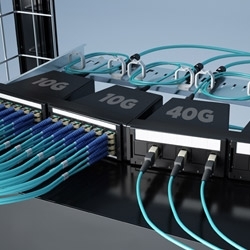 MPOptimate
Year of Innovation: 2008
This family of products contains connectors, trunks and fan-out cable assemblies with leading optical performance. This performance was achieved by conducting computer modeling to hone in on the most optimal fiber and ferrule dimension/tolerance that allows 100% physical contact when two connectors are mating together. This innovation enables superior optical performance for high-speed and mission-critical data center applications. With such a low insertion loss performance, MPOptimate (LLC) connectors provide customers the maximum flexibility in terms of cabling design for a modern data center. Most of the high-speed applications reduce the allocated power budget of the cabling to accommodate the increasing complexity of the transceiver design. The MPOptimate (LLC) solution gives the design freedom back to the customer—one can deploy more administrative points such as cross-connect and inter-connect in the fiber link without sacrificing the overall system performance. The growth from 10 to 40 and 100Gb/s could be done by changing the patch cords and/or cassettes but maintaining the trunk cabling. This innovation enabled CommScope to become a leader in high-performing, future-ready products in the data center.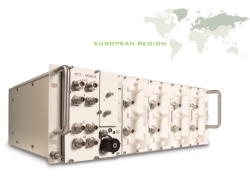 Node AM In-Train repeater
Year of Innovation: 2006
The Node AM In-Train Repeater was developed in follow to the MIRT analog RF repeater for in-train wireless coverage. This fully digital platform supports sophisticated features such as gain trailing – the capability to change very rapidly the signal gain of each operator independently as the train moves at 250 km/hour. It also can change configuration and settings based on location detection, for instance changing the complete configuration of the frequency band as the train crosses a border from one country to the neighboring country. CommScope is the leading provider of in-train repeater solutions and enables commuters and travelers to enjoy superb wireless coverage within the coaches of trains.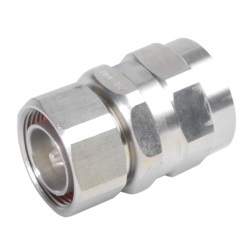 Positive Stop RF connector
Year of Innovation: 1995
These radio frequency (RF) coaxial cable connectors enabled network operators to simplify network installations at a reduced cost and with increased reliability. In the manufacturing process, Positive Stop connectors led to several innovations:
First use of machined phosphor bronze contacts rather than heat treated beryllium copper,
First use of a molded TPX insulator rather than machined Teflon,
First use of pre-assembled connector assembly with integral pin,
First use of garter spring clamping mechanism

QR cable
Year of Innovation: 1980
QR cable is a patented coaxial design with a foam core, adhesive, thin wall aluminum outer shield and bonded jacket that features superior reliability and flexibility over any other trunk and distribution cable. Developed by CommScope to provide low RF attenuation and integrate easily with existing plant cable, QR cable meets the increasing demands of modern broadband networks. The QR cable features a copper-clad aluminum center conductor that's larger than conductors found in other cables. The QR dielectric is a closed-cell polyethylene that's compressed during the swaging process, which allows for exceptional bending. The QR shield is formed through a unique process where precision tape is continuously roll-formed around the core and welded through RF induction. Then, the QR cable is fitted with a tough outer jacket that resists sunlight, moisture and extreme temperatures. The QR process technology lead the way to the development of the Cell Reach product line and CommScope's wireless division.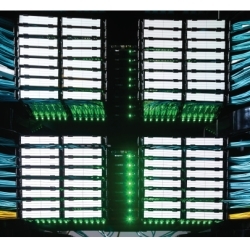 Quareo Automated Infrastructure Management System
Year of Innovation: 2009
Quareo technology was developed in response to customer demand for visibility of the part of the network that has always been invisible—the physical layer. Quareo technology, developed by ADC (now part of CommScope) is a genuinely revolutionary connection point identification (CPID) technology that brings managed connectivity to the physical layer of the network, enabling an automatic, accurate, and real-time view of a network, from the data center all the way to the desktop. CPID incorporates an integrated circuit placed right on a standard form factor connector, allowing for something that is very akin to a unique ID placed on both ends of the cable. Patch panels with the ability to read the information contained in that chip report information such as unique characteristics of the connection and provide full accountability for each connection point within the network.