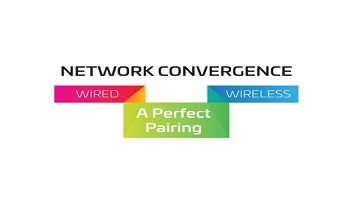 In part one of this series, we talked about the three types of networks: multi-service organization, telephony networks and a traditional cellular network. They all look different when deployed due to the need to meet different communications applications. And when it comes to converging them, there are three things needed.
We've already discussed the power requirement, and its importance to a converged network. Now we'll talk about the final two.
Backhaul (data from the edge access points to the central data storage or processing centers)
Traditionally backhaul from cell sites has been done either though high-speed twisted pair, microwave or fiber links from radio locations to centralized equipment locations. These can be dedicated links or shared via time domain or wavelength-division multiplexing.
In an existing HFC network, backhaul capacity can also be provided via DOCSIS. DOCSIS provides connectivity over either coaxial or fiber links. Equipment to condition power from the HFC plant to activate wireless access points via PoE (power over Ethernet) while providing a DOCSIS channel also exist. For small cells, depending on the technology deployed, tight timing and latency requirements are a concern, but these issues are currently being addressed in standards organizations.
"Fronthauling" wireless data employs CPRI (Common Protocol Radio Interface) signaling. This signaling technology is currently required by LTE radios if coordinated multipoint is deployed to allow for the reuse of spectrum and mitigates interference. The dedicated link is usually a pair of fibers per radio deployed, but a fiber pair can be shared for multiple fronthauls via WDM, as long as the signaling paths are independent and no longer than 15 km.
New technologies such as the packet switchable ECPI standard are also evolving. The intent of this new standard is to decrease sensitivity to new required 5G latencies, reduce required data rates, and still allow for centralized radio coordination to reuse spectrum.
Site acquisition
Going forward, most wireless mobility to be deployed for LTE densification or 5G will be deployed in high capacity urban and suburban areas.
CLICK TO TWEET: What are the three necessities for successful network convergence? CommScope's John Chamberlain outlines them.
Site acquisition is always a major part of any wireless network. Typically, it takes time and money to secure. The 4G/LTE wireless densification effort is about capacity, not coverage, and 20-30 feet in the air is adequate for the coverage of a small cell area to create the additional capacity desired. For underground plant, small cabinet based cells are available, with varying tower heights and a variety of concealment methods. These small calls can be very unobtrusive, and placed along right of way already established for pedestals and cabinets.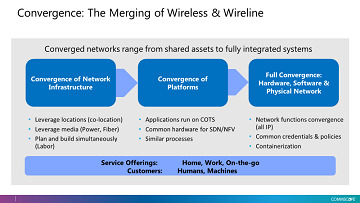 Convergence of our telecommunications' networks is a natural economic and technical evolution expedited by wireless small cell densification. Power, backhaul and site availability are of utmost importance in the design of any radio access network.
Throughout 2018 and beyond the migration toward network convergence will continue. The physical assets of networks will begin to be consolidated, and the same plant facilities will be used for wireless backhaul/fronthaul, FTTx, HFC, fixed wireless access, and commercial high speed data requirements via a highly leveraged optical fiber facility. NFV will continue to evolve as well, making all central processing facilities, whether datacenter, headend, central office, or mobile switching center all resemble each other running applications on COTS and eventually physically merge.
In addition, the signaling technology in the outside plant will migrate toward an IP, packet-switched network allowing for the convergence of different service's signals within the same data stream.
Vendors understand and are aligned to facilitate the financial motivations for network convergence and the need for cost effective solutions.

New solutions are being developed to facilitate convergence, and more will be coming in the next few years.