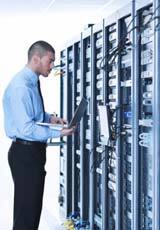 As enterprise networks become more complex, customers look to companies with vast capabilities to partner with them to implement multiple solutions and meet their unique requirements.
A data center is no longer a centralized location to put disparate systems. It is no longer just servers, networking gear and physical infrastructure. Data center managers now want fully integrated systems.
They want full insight into what is happening inside of their systems and networks. They demand intelligence.
It is the companies who have the most up-to-date and relevant information at their fingertips who will be able to be most responsive to their users' needs.
To meet this demand, CommScope continues to add companies to its PartnerPRO Network, a worldwide network of professionals including consultants, integrators, distributors, installers and alliance partners. Customers can rely on CommScope's PartnerPRO Network to find a company that has the experience and capabilities they need.
Companies who focus on integrating multiple systems into seamless solutions strive to achieve the Integrator status in the PartnerPRO Network. Once a company achieves Integrator status, CommScope works with them to become enabled to integrate specific CommScope's solutions. One such accreditation that an Integrator partner can earn is the imVision accreditation. This accreditation is earned after CommScope confirms the partner is able not only to help our customers implement the SYSTIMAX imVision solution, but also has expertise with a variety of planning and testing tools as well as highly-developed IT project and process management skills. An imVision accredited Integrator can offer data center managers the integrated network intelligence that they need.
Since the launch of CommScope's PartnerPRO Network in October 2012, we've accredited a limited number of companies with the distinguished status of imVision accredited Integrator. The first of these companies are TAF and Associates in Australia; KPN in the Netherlands; Impala Network Solutions in Spain; Arthur McKay & Co, Data Techniques, Line Management Group and Redstone in the UK; Tsinghua Tongfang Co. in China; and Business Technology Architects in the US. Other companies from around the world are also currently in the process of achieving this accreditation.
For our customers, we hope you find the PartnerPRO Network to be a useful resource for your data centers, wireless networks, and other technology applications. Leave me a comment if you have feedback about the program. To learn more or locate a partner, visit our PartnerPRO Network webpage.