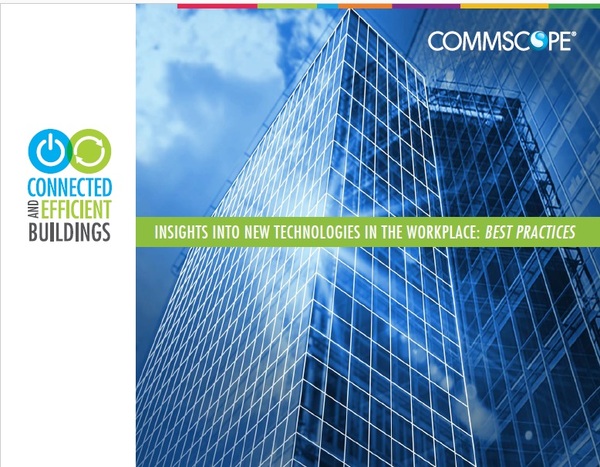 Do you have way too many books, magazines and articles at home that you want to read, but never have enough time? How about at work – do you have a backlog of emails, reports and other materials to wade through? If so, you probably didn't have enough time to read the CommScope Connected and Efficient Buildings e-book. And you probably still don't have enough time.
To make it easier for you, we produced a series of blog posts about the e-book. They all discuss various aspects of network connectivity inside intelligent buildings. Skim the list to find the one or two you have time to read. It won't be the whole e-book, but it will at least give you a taste. You can always read the rest on your next vacation…or over the holidays…or when you retire.
IoT from Many Vantage Points – What is the Internet of Things? It depends on your vantage point. How employees, employers and IT departments experience IoT differs based on their requirements and usage.
A Common Infrastructure for Connected and Efficient Buildings – The role of the physical layer inside buildings is becoming more varied. Technologies such as Power over Ethernet and HDBaseT are expanding the universe of devices that can be connected and powered by the network.
Unleashing Your Smart Building's ESP Potential with a Universal Connectivity Grid – The proliferation of wired and wireless devices in smart buildings presents new challenges to IT, facilities and corporate real estate departments. CommScope's Universal Connectivity Grid is designed to deliver high bandwidth and remote powering capabilities in support of intelligent building applications, while providing improved efficiency and flexibility.
Complex Networks Require Smart Tools for the Physical Layer - Network operators are turning to new software tools that build more intelligent networks. Automated infrastructure management (AIM) solutions offer visibility into the network's physical connectivity.
Power over Ethernet: Latest Developments – Power over Ethernet (PoE) is a widely recognized as a cost-effective solution for powering a variety of data networking and intelligent building devices. PoE continues to expand rapidly with over 100 million ports installed already.
The Advantages and Applications of HDBaseT – HDBaseT, a global standard for the transmission of ultra-high-definition audio/video, has only been around since 2010. In that short time, HDBaseT has shown that there are many advantages for the technology.
Wireless Connectivity as the Next Utility – Wireless connectivity has become an imperative among connectivity users with more than 80 percent of all wireless traffic originating or terminating indoors.
Shining a Light on the Internet of Things at Work – Many companies are exploring ways to enhance their workplaces to attract and retain top talent. Key areas for IoT investment in the workplace are lighting and space utilization.
BIM and the 4th Utility – The future of architecture and the construction industry is digital, and building information modelling (BIM) is the future of design and long-term facility management and building analytics. CommScope believes that BIM models should include network infrastructure information.
Safety, Security and Stability in Smart Buildings – Reliable wireless networks for emergency services personnel help them do their jobs more effectively in times of crisis. Secure and stable networks improve efficiency and protect valuable business assets.
Setting the Standards for Connected and Efficient Buildings – Standards for telecommunications applications and cabling are always evolving. Numerous organizations produce standards relevant to the cabling and connectivity in intelligent buildings. This blog outlines the major standards developments organizations and their creations.
If you can squeeze it in, CommScope is also participating in a webcast on February 2 about wireless applications and technologies inside enterprise buildings. Register for free and learn more about the Universal Connectivity Grid for DAS, small cell and Wi-Fi networks.