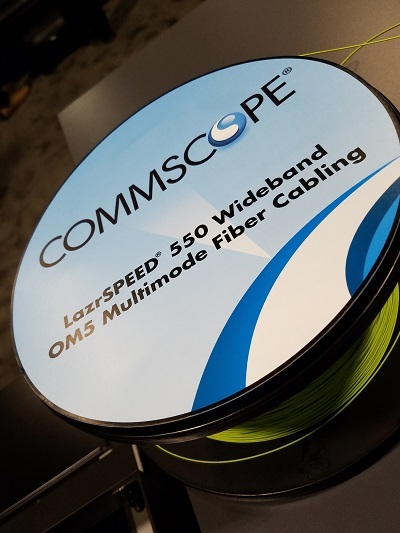 The momentum behind the new OM5 wideband multimode fiber type in buildings and data centers recently received several significant boosts.
The Shortwave Wavelength Division Multi-Source Agreement Group (SWDM MSA) announced on March 16 the formation of an industry consortium to define optical specifications and promote adoption of shortwave WDM standards for use in data center and enterprise campus applications using duplex multimode fiber. The group also announced publications of its first two standards that define optical specifications for four-wavelength SWDM to transmit 40 Gb/s and 100 Gb/s Ethernet signals ("40 GE SWDM4" and "100 GE SWDM4", respectively).
OM5 provides a significant advantage over legacy OM3 and OM4 fibers to support SWDM applications. In the future, SWDM technology could be leveraged to enable 200, 400 and 800 Gb/s Ethernet traffic on multimode fiber as well.
SEE ALSO: The future of multimode has a name, and it's OM5
In addition, the Committee Draft for Vote (CDV) of IEC fiber specification that includes wideband multimode fiber (IEC 60793-2-10 ed.6) was approved on March 24with no negative votes from any of the national committees. This will proceed straight to publication and bypass the Final Draft International Standard (FDIS) ballot. Positive voting of the IEC CDV was the one remaining milestone for OM5 to be fully supported in the upcoming ISO/IEC 11801-1 standard. The strong industry support of OM5 is shown by the fact that the IEC fiber specification passed through all development stages in the minimum possible time, requiring only two ballots spanning less than one year.
Meanwhile at the TIA meetings last month, subcommittee TR-42.12 (fiber and cables) passed a motion to associate the color lime with WBMMF. The motion opened a new project, TIA-598-D-2 (addendum), to accommodate lime as the jacket color for WBMMF (TIA-492AAAE, OM5) involving the jacket color table and any other specification items to define this jacket color.
All these developments are key to the market's acceptance of OM5 and its applications. The convergence of applications and cabling infrastructure specifications for OM5 is proceeding at a rapid pace, positioning OM5 as the ideal choice for new multimode installations.