I love traveling to southern California for trade shows. Several months ago, I was fortunate to attend Cisco Live in San Diego. Now, I'm thrilled to be attending the Fall BICSI Conference in Anaheim. As usual the weather is amazing. The conference is in full swing and has lived up to expectations. Here are some observations:
As a volunteer for the Registrations Credentials Supervision Committee, my conference actually starts on Sunday. The committee is responsible for creating and maintaining all of the BICSI credentials starting with the Registered Communications Distribution Designer, the cornerstone of the registrations. Being a volunteer is a very rewarding proposition. BICSI as an organization based on the work of volunteers. Subject matter experts within our member community write the manuals. Exams are written and managed by the volunteers. As a matter of fact the entire board of directors, including the president and president-elect, are volunteers. Just as rewarding are the friendships I have developed with my fellow volunteers. These are friends I will value for a lifetime. Just a side note, the last technical manager I hired is a fellow registration committee volunteer.


Sunday was a busy day. Following the committee is the early bird exhibit. I was really surprised at the number of people in the exhibit hall (it was probably because so many seminars that began early the next day). BICSI has provided its membership a great opportunity to get additional CECs for their credentials and, more importantly, stay up-to-date in our rapidly changing industry.


One thing we can count on is exhibitors bringing their "A" games to the conference. Many new products are being introduced at the conference. Manufacturers call in the "big guns" from their technical teams to get us excited about their new technologies. For example, CommScope is introducing one brand new concept that has been brought to reality and dramatic improvements to their flagship Intelligent Infrastructure solution.


The newest product from CommScope is called InstaPATCH Quattro. It is a pre-terminated copper-cabling solution capable of supporting four 10GBase-T channels in a single cable. This could very well be a 40 Gb/s connector solution that can be used in today's data center networks. The beauty of the solution is the single connector ends that plug directly into a 4xRJ-45 information outlet module. This allows for a virtually zero design effort, except length, that allows quick manufacturing and delivery to the job site. Because it is modular, it can be quickly installed and easily moved or reused when decommissioning pods.

The other solution update is the newly rebranded intelligent infrastructure solution. Our imVision is a total redesign of the software, making it makes easier to access and use. Its software provides you an easy view into your entire network-cabling infrastructure, allowing for easier management of the OSP, enterprise office space, data center cabling, and IP network devices. Several integration packages allow you to increase the effectiveness of many other solutions like Cisco EnergyWise, Cisco Call Manager, Axis IP Cameras and many others. This is certainly worth coming by and seeing.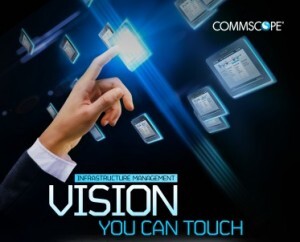 I'm looking forward to the rest of the show. Not only will I get to talk to new people about our solutions, but I will also get to work my way through the rest of the exhibits and get caught up with the rest of the industry.