Although the BICSI Winter Conference & Exhibition is historically a structured cabling trade show, many solutions on display at the just-concluded 2015 event bleed into other market segments. Traditional product barriers are breaking down. This overall market trend was on display at the event and especially prevalent in this year's CommScope booth.
Our booth was subdivided into a number of areas covering solutions for different market segments such as enterprise lighting and in-building wireless. These solutions can and do utilize structured cabling, but they also involve applications beyond structured cabling. We also highlighted the educational offerings from the online CommScope Infrastructure Academy in the CommScope booth.
The CommScope solutions on display were: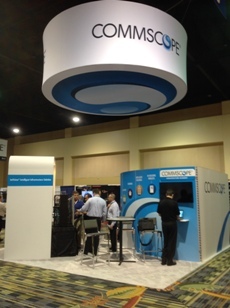 One of the most prominent aspects of the booth was an outer wall that featured the Universal Connectivity Grid (UCG) solution. The UCG is a design architecture that provides infrastructure efficiencies from the design phase of an intelligent building. Product costs and installation efficiencies can be identified at the planning phase and realized at installation by addressing common media and pathway requirements through a grid-based layout. This concept improves administration and minimizes the cost of disruption when providing additional services such as intelligent lighting.
The fiber cabling and imVision teams collaborated to demonstrate new SYSTIMAX® fiber shelves with 24-Fiber iPatch and MPO iPatch overlays installed. The new shelves are expected to be released within the market later this year.
The ION-E is based on an IT architecture, utilizing the structured cabling common to enterprises to make it easier to deploy while being flexible and scalable for future needs. The ION-E features multi-operator, multi-technology and multi-band capabilities and unifies licensed and unlicensed wireless services by combining all signals on a single 10 Gigabit infrastructure that is technology and spectrum adaptive.
Yes, this 2015 Winter BICSI was a little different than the last few with the presence of wireless and software solutions having a bigger presence than before at this "cabling" show.
Did you attend the 2015 Winter BICSI? If so, feel free to tell us what you liked about the show in the comment section below.