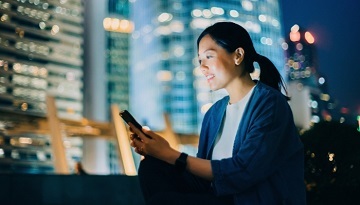 Depending on who you speak to, National Singles' Day is either a day to commiserate or celebrate. It appears that many online shoppers and Alibaba, the creator of the world's biggest online shopping event, have chosen the latter. This year, on November 11, Alibaba smashed its own record with sales topping $30 billion in only 24-hours, soaring past last year's record of about $24 billion. Two years ago, a record 100,000 vehicles were sold online within 24 hours on Singles' Day.
CLICK TO TWEET: National Singles' Day isn't the only shopping festival being created to satisfy consumers' appetite for consumption. CommScope's Laura Chen explains in this blog.
A digitally connected China
National Singles' Day is yet another example that China has become an increasingly connected society. Digital payments, video streaming, online gaming and the usage of WeChat are all contributing to the nation's exponential amount of data being consumed at work and on the go.
Online shopping has also taken a new form on Tencent's WeChat. As the Chinese market becomes the strongest growth driver for global luxury brands, many established foreign brands are launching new products solely on the social media platform. For instance, Dyson, a British household electronics brand, tapped into the potential of social e-commerce, resulting in its hair-styling product selling out within a minute.
Online retailers are more optimistic as social e-commerce gains prominence. National Singles' Day isn't the only shopping festival being created to satisfy consumers' appetite for consumption. Global luxury brands Dior and Michael Kors sold limited editions on WeChat's mini programs during July's Chinese Valentine's Day (known as Qixi Festival) to boost their sales.
Delivering higher bandwidths and speeds for the future
Ninety percent of Alibaba's National Singles' Day sales came from mobile phones last year while U.S. citizens opted to use their mobile devices on Black Friday.
Data is consumed or transmitted whenever a user connects his mobile phone to the Internet. A simple projection from Statista estimates that there will be 2.5 billion smartphone users in 2019 and this number will continue to grow steadily –this is not counting the servers and computers that the phones and tablets are connected to and all other devices which create data.
The global demand for data is growing exponentially as users embrace the convenience of the internet. As a result, global data centre traffic is expected to triple by 2021, according to industry reports. This exponential increase in bandwidth demand raises a key question for online retailers, "Is there enough capacity to deliver the required bandwidth and speeds before the next shopping festival?"
Migrating data center to higher speeds and increased capacity is inevitable for all organisations, but it does not have to be a tedious or an expensive process. Every network is unique and CommScope's High Speed Migration platform is just one way we are helping customers shape the always-on networks of tomorrow.