As the need for more bandwidth to support mobile devices continues to grow, optical fiber has entered the wireless spacein order to support this need. This is no surprise to those of us who have watched fiber take over the broadband and enterprise spaces already. Maybe the only question is, "What took so long?"
Newer devices called Remote Radio Units (RRUs) are taking advantage of the optical fiber bandwidth to improve system efficiency and reduce the equipment footprint at the antenna site. As RRUs are typically placed at the top of the tower near the antenna, both fiber and power conductors have to be run from the RRUs down the tower to the Base Band Units (BBUs) within the cabinets.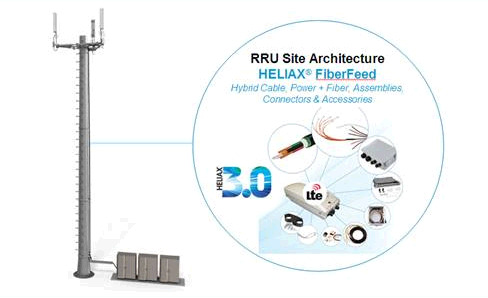 There are two basic ways to provide this connectivity: a hybrid cable containing both fiber and power or separate power and fiber cables run in parallel. As the fiber and power connectivity solution from CommScope, HELIAX® FiberFeed provides both alternatives. The hybrid configuration combines power and fiber conductors in a single high-performance cable that delivers efficiency, capacity and savings. A single cable can provide enough fiber and power conductors to support multiple RRUs.
The HELIAX FiberFeed solution has three basic components: the hybrid trunk cable that is run up the cell tower or along the rooftop, the short jumpers/cords used to reach the equipment, and a junction box that acts as the connection point between the trunk and the jumpers.
The hybrid trunk cable can support 3-5 RRUs with one cable, meaning less tower loading and lower costs and leasing fees. It includes power conductors and optical fiber (single-mode or multimode) in one armored cable, built to length and terminated in the factory. Tower operators can add fiber redundancy to be ready for future expansion or repairs.
The junction box provides connectivity for both the fiber and power conductors with optional lightning protection. The main feature of this junction point is that it allows for easy updates or changes to the radio equipment without having to replace the entire trunk cable. From the junction box run the hybrid patch cords with interfaces that match the RRU device. The patch cords also support both fiber and power within one cable jacket in variable lengths to minimize excess cable.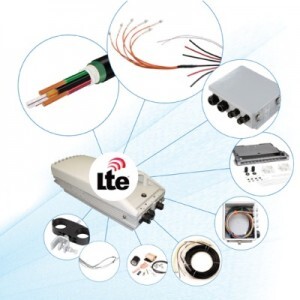 That covers the basics of the HELIAX FiberFeed solution from CommScope. For more information about fiber in the wireless space and RRUs, see James Donovan's post from February 2012 "Fiber-To-The-Antenna" or sign up for the CommScope Infrastructure Academy's Fiber-to-the-Antenna online course.