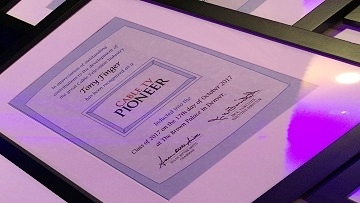 While I haven't known Tony Finger very long, I'd call him pretty darn humble. He doesn't seem to particularly enjoy the spotlight or being the center of attention. He's a man who's perfectly happy doing his job well and seeks no other recognition. But he got it anyway.
In October, Tony was named a Cable TV Pioneer. Legends and all of the "who's who" in the cable industry came dressed to the nines in Denver (after a day at the Cable Tec Expo) to celebrate the people who have made a difference in their jobs and communities. Tony was in good company, although he said he felt a little out of his element. As CommScope's vice president of sales for MSO service providers, he was honored for his decades with the company, his strong relationships and his commitment to his volunteering.
CLICK TO TWEET: CommScope knows how to pioneer the cable industry. Just ask one of their VPs.
But the best part? He was nominated for the award not by a co-worker, a community leader or even his boss. He was nominated for the award by a customer. Chris Bowick, the retired chief technology officer for Cox Communications, called Tony "a consummate professional." He said Tony "always (put) customers first, listening to their needs and delivering on those needs as promised."
It's what we're about at CommScope. Our customers always come first, and it seems Tony has known that since he started with the company right out of university. He saw something in CommScope that kept him here for this long. And Tony, we see something in you, too.