I took a pop quiz from Cisco. It contained 10 simple questions to help me determine how I should network my office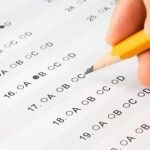 – wired, wireless or both. My quiz result was "both"—wired with a few wireless access points for visitors. While this quiz is helpful and entertaining, those taking the quiz should also be given one more option—the choice of "in-building wireless."
Only one additional question would need to be added to the quiz – "How do you plan to support smartphones in the office?"
Building owners could rely on the outdoor network which often ends up frustrating the smartphone user because of spotty coverage and dead zones within the office building. The building owners could easily deploy an in-building wireless solution at the same time they are installing the wired and WiFi networks in the office. If money is tight, they could install the in-building wireless cabling and antennas now (at a big savings compared to post-construction) and wait to install the electronics later when the complaints from smartphone users begin to drive them insane. With more than 50% of cell phones in the US being smartphones in 2011, developers and companies are adopting in-building wireless strategies now to make sure they can overcome these potential problems and keep smartphone users happy.
If you are developing plans to network a new office, make sure to include wired, WiFi and in-building wireless in your list of options. You may need all three.
As smartphone usage increases, in-building wireless may become a "must-have" for your network and your sanity.