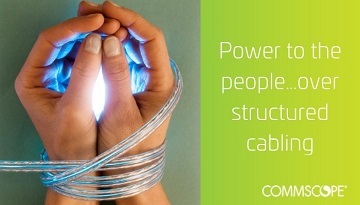 I don't know of another term or topic that's been used so much in songs that it has a Best of List of 99 songs – except for POWER. The term means different things to different people, but here we are going focus on power as "a source or means of supplying energy."
CommScope recently announced a new power over ethernet (PoE) lab in Greensboro, NC, to work with partners and customers to test the impact of PoE on structured cabling. What is PoE, and why it is so important? PoE technology allows both power and communications to be delivered over the same twisted pair cabling, which means that a separate power network is not necessary. Our customers who are deploying this say they want assurance that their cabling infrastructure can support the higher power levels associated with the newly approved standard.
CLICK TO TWEET: What is PoE, and why it is so important? Jason Reasor explains in this vlog.
Jason Reasor, CommScope's director of strategy and technology for building systems, talks about the new PoE lab and some of the new standards that are driving the need to testing solutions.