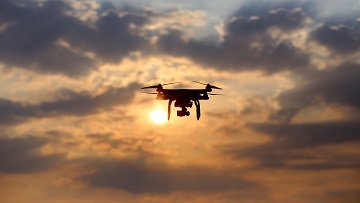 We've seen a lot of news coverage around drones and airports. I recently caught up with the corporate communications team to discuss what enhanced security means from a communications infrastructure perspective. Here are my responses to their questions.
CLICK TO TWEET: Kaleem Ullah explains what enhanced airport security means from a communications infrastructure perspective.
Q: Airports around the world have recently made headlines due to unauthorized drone activity. How can they prepare for the future when it comes to security?
A: This may not sound like a long time but when each minute equates to approximately 100,000 USD in losses that's a different story. London Gatwick airport lost approximately 64.5 million USD in December due to 33 hours of drone disruption.
We know our customers around the world are assessing these types of risks by deploying enhanced surveillance around the airports.
Q: How can CommScope contribute to enhanced security?
A: As airports turn to additional cameras, CCTV and surveillance for enhanced security, they must have access to electricity. This is not always an easy task considering devices may be several hundered meters away from a power source. Airports around the world are turning to CommScope's powered fiber cable systems to speed and simplify installation, and power these types of network devices.
The safety and availability of connected equipment is greatly increased thanks to the management of centralized direct current (DC) which can be connected to higher capacity backup devices that will maintain circuit operation for a period of time in the event of a power failure.
Q: It's great to hear that CommScope is helping customers with performance of PoE devices, especially without having to worry about power lines.
A: Indeed the economic and operational benefits are practical and immediate. Here are a few benefits of the Powered Fiber Cable System:
Reduces the need for landlord and utility negotiations
Eliminates local power sources
Greatly speeds up planning by eliminating DC electrical calculations for voltage/power drop over varying distances
Handles up to 64 devices simultaneously from one power supply
Contains carrier grade electrical protection
Is NEC Class II and SELV compliant
Allows for placing devices exactly where they are needed to maximize coverage
Check out this
video
for details on how organizations can easily install devices using CommScope's innovative technology.