There is no doubt this is an exciting time in the cable television industry. Technology is expanding at a rapid pace and subscribers are being offered more options than ever before.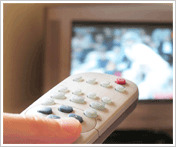 At the same time, operators must keep up with their subscribers' demands, which can put pressure on the operators. These "pressure points" cover several issues including expanding capacity/coverage areas, rising CapEx and OpEx, and becoming environmentally conscience—all while increasing revenue. You can't accomplish any of this unless your network is reliable. So how do you make your network more reliable?
The answer is simple:



Choose and deploy the right technology


Leverage the value of network intelligence


Manage energy more efficiently



Every new innovation adds complexity, bandwidth demands and operational expenses to your network. Managing bandwidth efficiently now requires forward thinking and investing in new technology—from the headend to the home.

Deploying technology in your network also means you must have complete control. Network intelligence is a way to plan for the technological unknowns of tomorrow while getting the most out of your bandwidth today. Network intelligence allows operators to manage both CapEx and OpEx, while also expanding their bandwidth footprint.

New technology and network intelligence means you'll need more energy to power it. Operators are discovering that energy costs are at or near the top of their lists of network operational expenses. They are looking to deploy solutions that maintain or increase service levels while reducing their energy consumption.

Reliability is important to operators, and technology, intelligence and energy are three factors they must consider. During this week's SCTE Cable-Tec Expo®, CommScope will demonstrate that reliability. We believe three key components of a network—technology, intelligence and energy conservation—can reap big rewards for you in cost savings and improved performance. We work with operators to understand their specific business challenges and develop solutions to help them achieve their critical goals. CommScope has a long, trusted history in the cable and telecommunication industries. As our customers and industry continued to evolve, so has CommScope.

I encourage you to stop by our main booth (2282) and our stand at the SCTE Smart Energy Management Showcase (11) to learn how CommScope can prepare your network for any challenge and every opportunity.