CommScope's mission to help our customers solve business challenges and adapt to change quickly is one of the foundations of our success. In the realm of product environmental compliance, there is growing interest in the chemical makeup of our products.
This interest originates from several sources, notably the European Union (EU) RoHS Directive (Restriction of Hazardous Substance), which took effect on July 1, 2006. CommScope's customers must comply and be able to document compliance with the restricted substances.
CLICK TO TWEET: Vinatha Viswanathan explains how easy it is for customers to find RoHS and REACH certificates on CommScope's website.
Beyond the electronics industry, any company manufacturing or shipping articles into the EU must document any use more than 200 SVHC (Substances of Very High Concern) under the REACH Regulation (Registration, Evaluation, Authorization and Restriction of Chemicals). The list of SVHCs keeps on growing as European Chemicals Agency (ECHA) releases a new list of REACH SVHCs every six months.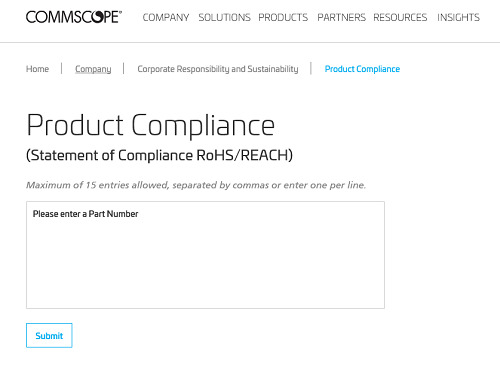 Our Product Compliance team receives daily requests for such information. CommScope provides compliance information for its products through the specifications and certifications. Customers could request product RoHS/REACH certifications by sending an email to our Customer Service representatives or directly to productcompliance@commscope.com.
Each year, the Product Compliance team strives to automate more its processes. In the beginning of 2019, there was a review of customer requests and responses. In alignment with becoming a preferred partner to customers and to enhance speed, a project was initiated internally to provide this information in a self-service model for customers. The purpose of the project was to help customers readily obtain certifications in a click of a button, so they can expedite the qualification of CommScope products in their business system of records.
Customers can use this link and enter the CommScope product number to receive the documentation. Don't forget, customers can always email productcompliance@commscope.com if they require further assistance.
Additional resources: