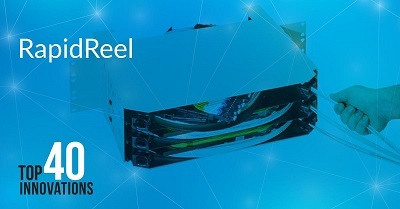 Note: As part of its 40th anniversary observance, the CommScope team set out to identify the top 40 innovations that have come from CommScope (or one of its acquired companies) over the past 40 years. We are unveiling the innovations chosen for the Top 40 on CommScope Blogs through early January. Read more about the overall program and selection process in this November 4 post.
We continue today with our unveiling of innovations—in alphabetical order—that are ranked 11-20. You can see a list of the Top 40 innovations already revealed on our 40th anniversary page. As our 40th anniversary year draws to a close, we hope you enjoy looking back at what we think are our top innovations—ones that have helped build the world's infrastructure of today and tomorrow.
Have an opinion about or connection to any of the innovations? Leave a comment below.
CommScope's Top 40 Innovations—Grouping 11-20
Definition: Rapid Reel is a technology that stores fiber cable on a spool to allow installers faster deployment, using as little or as much cable as they need to connect between distribution points. This eliminates the need to measure or special-order fixed-length micro cables.
Year of Innovation: 2007
What is the innovation that CommScope or one of its acquired companies was first in creating?
ADC created the Rapid Reel technology to use in wall boxes for multi-dwelling units (MDUs), which was later adapted for patch panels in the central office and data centers. In 2010, Rapid Reel was again re-engineered for the Outside Plant.
Rapid Fiber Panel Series with patented Rapid Reel technology stores up to 200 feet of fiber optic cable on an internal spool inside the Rapid Fiber panel. This allows equipment installers to use as much or as little cable as they need to connect the Rapid Fiber panel to a fiber frame or a piece of active electronic equipment in a central office, data center or cell site. When used with an external spool of cable, Rapid Reel technology can manage up to 1,000 feet of cable.
Rapid Reel technology eliminates the need to measure for and order fixed-length intra facility cable (IFC) micro cables. It also solves the slack storage problem because any unused cable is stored on the internal reel. Otherwise, patch panels don't have room for slack storage, and installers end up attaching loops of slack cable to the backs of equipment racks.
What was happening in the market that this innovation was needed?
Every network incorporates active electronic equipment that must be connected through a series of frames and patch panels. Installation is one of the biggest expenses for data centers, central offices or cell sites. Network operators were looking for ways to streamline the installation process, reduce installation costs and speed up installation activities.
How did this innovation benefit customers and the industry?
With Rapid Reel technology, network technicians no longer have to make multiple visits to a site to do an installation. Before Rapid Reel technology, technicians had to visit a site to measure the distance between a patch panel and the piece of equipment they wanted to connect. They then needed to order the micro cables in the right sizes, and then return to the site to make the installation. Sometimes, customers had to order multiple lengths of micro cables to make sure they didn't have a lot of slack that would need to be stored. Rapid Reel technology eliminated the need to pre-measure for and order micro cables, reducing installation time by 60 percent. The process also simplifies ordering and inventory due to fewer SKUs.
Did this innovation act as the springboard for other innovations, and if so, how do they all tie together?
Rapid Reel technology was first used in wall boxes, then the 1RU Rapid Fiber panels. There are now 3RU and 4RU versions of this product in the market. Early versions of the Rapid Fiber panels used rear access for fiber, but since panels are sometimes placed back-to-back in central offices or data centers, the product was refined to offer all front access. Over time, Rapid Reel technology has been made less expensive through the increased use of plastic components and it has been incorporated into CommScope's Flexible Fiber Box for cell sites, as well as wall boxes for MDUs (multi-dwelling units).
What is the significance of the innovation for CommScope?
Rapid Reel technology has been used in many CommScope products, and these products have been strong sellers in the market because they slash installation time and cost as no other products can. CommScope continues to look for new ways to incorporate Rapid Reel technology into future products.
Related links: