Now that the gift-giving holidays are over, no doubt many of you still have squeals of joy still ringing in your ears and the smiles of happiness forever saved on your cameras. However, once all the unwrapping is done and people are coming down from the adrenaline high of receiving high-tech gifts, reality sets in and the ultimate question comes into play: "how do I work this thing?"
Many of you are probably used to fielding these questions and maybe even helped configure, set up, or build these presents.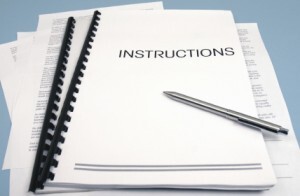 Even with the advent of simplified instructions down to only pictures (think IKEA), we still have people who are reliant on others to help get things ready to use. I'm not complaining. I actually like helping people in this regard because sometimes, maybe most of the time, I have an ulterior motive. If it's a product that looks cool or something that I might consider buying in the future, I will "evaluate" it based off its ease of usage or setup.
This is more relevant when people are considering any of our new CommScope product releases. There is a wealth of information on our new products including setup instructions located in our eCatalog. Many of the installation instructions are in the "Tools/Documents" tab when you are looking at a particular product. Here you will find downloadable PDF instructions, Visio stencils, and sometimes even installation videos. This will help you understand our products better and perhaps get a head start before the product arrives for installation at the project site. Another great way of getting a hands-on demonstration or best-practices installation instruction is to contact your local CommScope salesperson and ask if he or she can arrange for the technical manager to bring their sample kits and answer questions.
Getting things to install or set up properly can make the difference between a great performing product and a mediocre one. This philosophy applies to high-tech industrial products or even gifts for your loved ones.