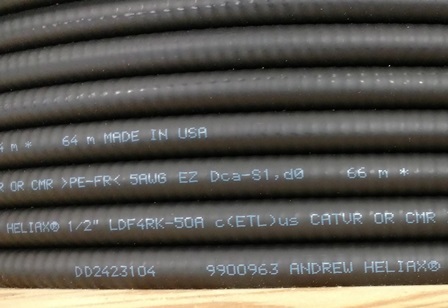 To help promote consumer safety, European regulators have created a set of common standards for fire retardancy in construction materials. As Koen ter Linde described in his recent blog post, "The Cabling Industry Invests In People's Safety," the EU standards for fire safety are found in the Construction Product Regulation (CPR).
I am proud to report that CommScope's HELIAX and CNT fire retardant cables are already CPR compliant. CommScope has been printing the appropriate CPR markings on our HELIAX and CNT cable jackets since May 1st.
CLICK HERE FOR A LIST OF COMMSCOPE'S CPR-COMPLIANT HELIAX AND CNT COAXIAL CABLES
As an EU regulation, CPR is applicable in all EU countries. CPR creates classification levels based on how well construction products—including copper and fiber communications cables—respond to fire. The appropriate Euroclass must be marked on every product brought to market by July 1, 2017. All cables manufactured on and after this date must have a CE marking on the packaging label, meaning the product meets the safety standards required for commercial use.
CommScope's HELIAX and CNT cable products are compliant to the System 3, Class D rating. Our cable jackets have the appropriate CE markings now. CommScope fully supports the CPR effort, which does well in creating a common technical language for the EU. CPR will help ensure that listed products meet standards for fire safety, benefiting our customers and their end-users, and preventing loss.
For more information about CPR, check out our white paper, "EU Construction Product Regulation for Communications Cables." A more easily digestible version is available in this infographic.
Have any questions? Leave me a comment, and I'll respond.