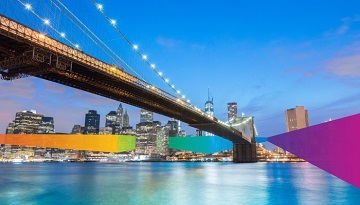 An introduction from CommScope's Christy Moossy: Digital trading is rapidly growing, creating a need to connect "global commerce centers via high-speed fiber optic cable," according to Equinix. Sara Baack, Chief Marketing Officer, from Equinix, describes the fabric of digital trade and gives examples of the future of digital trade. This supports CommScope's strategy to help data centers transform and adapt with High Speed Migration solutions.
(Note: The following has been submitted as a guest post to CommScope Blogs by Sara Baack, Chief Marketing Officer, for Equinix. It was originally posted as an Equinix blog. Opinions and comments provided in this guest post, as with all posts to CommScope Blogs, are that of the author and do not necessarily reflect the views of CommScope.)
From the Silk Road to the Spice Route, trade routes have linked continents, spanned the oceans and reshaped the world over water and air, rail and highway. But the newest trade routes travel on a different medium, and involve a fiber that has nothing to do with silk.
Today's hottest trade routes are digital, and they are connecting global commerce centers via high-speed fiber optic cable. They regularly traverse land and sea carrying everything from the latest video streaming sensations to the mission-critical cloud services that digital businesses can't exist without. The data flows at the heart of this digital trade barely existed 15 years ago. But trade in digital services has more than doubled in the past decade, and is now about 50 percent of total services exports, according to McKinsey's "Digital Globalization Report."
CLICK TO TWEET: Sara Baack of Equinix blogs about how interconnection allows companies to be dispersed and global, rather being centralized and slow.
As digital trade grows, the need for Interconnection – defined as private traffic exchange between businesses – is growing with it. In fact, The Global Interconnection Index, a new market study published by Equinix, projects that global trade of digital products and services will be a key driver of Interconnection demand in the coming years. Why? As data flows and transactions increase between customers, partners, and employees, more and more Interconnection will be needed to directly link these players with each other and with digital solutions in multiple global locations. The best-effort connectivity of the public internet won't be enough, with its greater congestion and security risks. To be profitable, digital trade needs Interconnection.
The broad fabric of digital trade
Like the original trade routes, data flows in the digital economy will carry a wide a range of products and services. Some of today's most in-demand digital products/services include:
Solutions: Every day a rich landscape of solutions is being digitally traded all over the world in virtually every industry, over networks and via the cloud, an essential digital trade conduit. Digital trade is providing the solutions that fuel revenues in nearly every industry. A cloud-based SaaS solution might be critical to help a financial services firm send out a high frequency trade order. A big data analytics solution may help a retailer better predict what consumers will and won't buy, and adjust inventory or product development. We see digital trade in action every day with Equinix customers like vwdGroup, a German firm that supplies information and technology solutions to the investment industry. After consolidating its company-run data center footprint on our global platform, vwdGroup now leverages Interconnection to deliver its data and solutions globally, at lower costs, with better security and performance.
Insight: An astounding amount of data is being produced today, but the resulting data sets must be efficiently and effectively stored and processed, and many need to be analyzed in real-time to have any value. This can't happen without the coordination of a number of different data systems, processes and services across various vendors and solutions. Ultimately, what is being traded here is insight that can lead to new revenues, new innovation opportunities and greater business efficiency and security. For instance, programmatic advertising vendors inside our Ad-IX digital ecosystem at Equinix provide analytics that help advertisers get the right ads in front of the right customers at the right times.
Content: The massive amount of content online has completely transformed how people enjoy leisure activities such as watching TV. Cisco predicts that video content will be 82 percent of all consumer internet traffic by 2021, and the video streaming industry is expected to expand to $70 billion by that time (MarketsandMarkets). These dynamics benefit companies like Equinix customer ContentBridge, which provides software and best practices to entertainment industry players who need to efficiently manage their growing content libraries among multiple business partners. After implementing an Interconnection Oriented Architecture™ (IOA™) strategy, ContentBridge leveraged Equinix's global reach to get its media platform closer to its cloud providers and customers so it could offer more secure, higher-performing and scalable solutions that delivered content up to three times faster.
Protecting the future of digital trade
Trade on the Silk Road and Amber Road wouldn't have flourished without, well, the roads! Similarly, there are some essential capabilities that enable and optimize the data flows at the core of digital trade, including:
Network density: Access to a wide range of networks, subsea and terrestrial, is the only way to move digital goods and services exactly where they need to go at the necessary speed. The recent boom in subsea cable construction, aided by Equinix, will further enhance global digital trade by bringing richer access to some regions and new access to underserved regions. For example, Seaborn Networks partnered with us to open the first high-capacity subsea cable route (Seabras-1) between U.S. and Brazilian commercial and financial centers.
Cloud density: Multicloud delivers countless services to businesses everywhere that support digital trade, from data analytics to e-commerce offerings. FreedomPay is a cloud-based digital commerce pioneer that provides ways for merchants to simplify complex digital payment environments. The company expanded its geographic footprint inside Equinix to get closer to its multiple business partners and cloud service providers. That move significantly improved its global reach and network performance, while reducing global networking costs by 60 percent.
Interconnection is key to leveraging cloud and network services, and enabling the rich collaboration between industries, regions, and partners that's essential to compete today. It allows companies to be dispersed and global, rather being centralized and slow. That makes them dynamic, not static, and free to go where the digital trade winds blow.
Check out the Global Interconnection Index for insight into what's happening now with Interconnection, and what's ahead. It can help you compete and grow as digital trade continues to redefine global commerce.