Every journey begins with a single step. Here in India, that journey is an initiative to propel the country's wireline engineers and technicians onto the global broadband stage as infrastructure and digital switchover programs on the sub-continent progress.
We are all aware of the global bandwidth demand, especially in India. As the demand increases, we must make sure our engineers and technicians are up to the task.
That's why the Society for Broadband Professionals unveiled a major new initiative—the formation of SCTE India. It was created to boost the future of the Indian broadband industry by supporting increasing numbers of trained and accredited engineers and technicians.
Founded in 1945, the Society is a non-profit organization whose aim is to raise the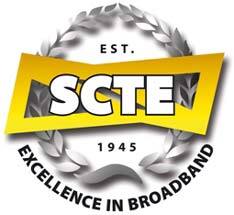 standard of broadband engineering in the telecommunications industry. The society particularly concerns itself with the training and career advancement of technical professionals in the field.
At a press conference during the first day of the Convergence India exhibition, the Society confirmed that SCTE India will be based in New Delhi. With nine founding members from across the Indian telecoms industry, SCTE India will also be a learned society aimed at the promotion of expertise, exchange of information/experience and the training and accreditation of members. I was honored to be named one of the Society's founding members and am excited to take on this new role.
As a founding member, my goal is to assist in the advancement in the knowledge level and standing of the industry's broadband professionals. Although the Society's pedigree comes from the cable television arena, it will also cover the delivery of content over the last mile, including coax, twisted pair, wireless and fiber. This can only be achieved through a variety of networking events (technical lectures, meetings, conferences, exhibitions, etc) and by disseminating the latest technical and standards data to the industry.
I believe SCTE India will significantly impact the region's broadband industry—a region that is quickly moving towards the digital arena.
Membership will be open to all wireline engineers and technicians engaged in the broadband industry in India and a corporate membership option is available for relevant organizations throughout the country. I encourage you to become a member of SCTE India. If you are interested in becoming a member, click here.
It's time you became a member and be a part of something special.