A leading health insurance company in the midwest United States was in the process of building a new headquarters. The building included 10 stories for offices, conference rooms, cafeteria, and a separate one-story structure for its data center.
During the initial structured-cabling design stage, the idea of an in-building wireless system was brought up. After the company received a rough budgetary quote, which included the capability of retransmitting three mainstream carriers, as well as public safety, they had decided against the idea because there was no capital available.
A compromise was reached to install the HELIAX® cable (0.5-inch coaxial RF cable) and antennae in each floor, which will provide an in-building wireless coverage in every location of the building. The goal was to provide the infrastructure for a future Distributed Antenna System (DAS) system with at least 80dBm coverage blanket throughout the building.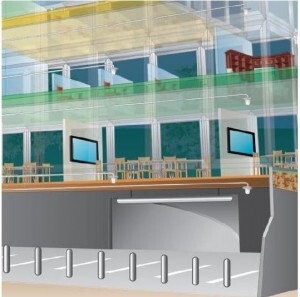 The building's exterior included windows that were constructed with low E glass coating—designed to reflect or absorb infrared light (heat energy). However, they also reflect radio waves, resulting in very poor cell coverage.
The company had no choice and immediately decided to install a complete DAS system. The installation was quick, and with much lower cost than starting from scratch, since the cabling infrastructure and interior antennae ware already in place.
Before you go ahead and start building, you must review all technological advancements available. Any organization that plans on constructing a new headquarters (even a new office building) should consider installing DAS. If they are not ready for a whole DAS system, they should consider a minimum project that wires the building with the cables and indoor antennae for future DAS installation.
You don't want to be standing in your building without wireless coverage and saying to yourself, "I should have installed this when I had the chance."