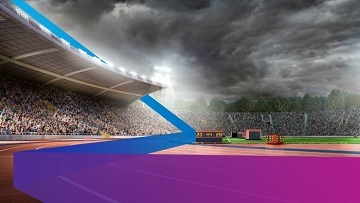 Whether it's a championship football game, a pop concert, or an auto race, stadiums are massive structures that offer larger than life experiences for fans. Delivering an unforgettable experience is something every stadium wants…as long as it's in the good way. The key to this is a fast, stable, and secure internet connection that allows for as many selfies as fans want to upload.
Stadiums have structural challenges for connectivity, but they also provide tremendous opportunity once that connectivity is in place. Concession marketing can be connected to drive fans to areas with the most food. HD cameras with facial recognition can provide security during the event and ability to search the crowd, in case of a threatening situation. This means higher bandwidth to support the tidal wave of internet use that occurs at a game.
CommScope has coverage systems in 24 of the 31 professional football stadiums in the US. This includes the systems for five out of the last eight venues that hosted NFL Super Bowls. A few of the highlighted venues are AT&T Stadium (home of the Dallas Cowboys), Bank of America Stadium (home to the Carolina Panthers) and NRG Stadium (home of the Houston Texans). For AT&T Stadium and the 2010 Super Bowl, CommScope provided the stadium with a multi-carrier, multi-service solution supporting fans, essential communications, and state of the art media needs. This new infrastructure required more than five million feet of CommScope copper and fiber cabling, enough to stretch from Dallas to Chicago! This system supports all carriers as a true neutral host providing coverage with AT&T, Verizon, Sprint, T-Mobile, and MetroPCS. For NRG Stadium, the new infrastructure consists of 783 antennas placed strategically throughout the stadium to provide greatly increased capacity and allow more bandwidth for sharing photos, texting, and downloading content, not only in the stadium, but also in tailgating and parking areas.
CLICK TO TWEET: Stadiums have structural challenges for connectivity, but they also provide tremendous opportunity once that connectivity is in place. CommScope's Melissa Strait explains in this blog.
And it's not just football stadiums. CommScope supplied fiber and copper cables to provide network bandwidth and communications solutions for Daytona International Speedway's motorsports stadium and the Sacramento Kings worked with CommScope to increase Wi-Fi and bandwidth to build a next generation-ready sports and entertainment complex for their professional men's basketball team.
CommScope can help make future stadiums function as mini smart cities. Much like a connected city, this includes getting fans to and from the game with ease. A connected stadium could monitor parking availability and alert fans which lots were full and direct them to better locations or provide alternative options for public transportation, like light rails, trains, and busses. When traffic is heavy after the game, fans could be connected with nearby restaurants offering specials giving them a reason to hang out a bit before heading home, instead of getting frustrated in traffic. This will create an ecosystem of connected hotels, restaurants, and transportation making every event one to remember: the ultimate fan experience.