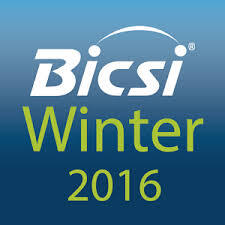 The
2016 BICSI Winter Conference & Exhibition
is the show where cabling design and installation professionals come to learn and see what's new for information technology systems. Is a new data center in your plans for 2016? You can hear all about the new standards that will help in decision making. Are you thinking about installing new cabling to support increased bandwidth needs? There are sessions and vendors at the show that can give you options as you expand.
If you plan on attending next week's 2016 BICSI Winter Conference & Exhibition in Orlando, Florida, then sit in on these presentations featuring CommScope experts to get a better understanding of new technologies that can impact decisions as you design and build:
Pre-Conference Seminar presented by the Association for Passive Optical LAN (APOLAN): "Fundamentals of Passive Optical LAN" featuring Sean Kelly, on Sunday, January 31 and Monday, February 1 at 9 a.m. EST.
Educational Luncheon: "Building the Infrastructure for the Internet of Things" hosted by Vince Sumrall on Tuesday, February 2 at 12:30 p.m. EST in the Sebastian Room 1-2
The Impact of NBase-T on Wi-Fi Deployments presented by Bob Matthews, on Wednesday, February 3 at 9 a.m. EST
"CAPEX and OPEX Savings in HD Camera Deployments Using a Powered Fiber Cable System" given by Chris Raynor, on Wednesday, February 3 at 3 p.m. EST
In addition, make sure you stop by booth #1206 February 1-3, 2016 to learn about our WideBand Multimode Fiber and Powered Fiber Cable solutions.
Join your peers at BICSI to hear more about the latest standards and offerings that will help you as you design and build. At these sessions and on the show floor, CommScope experts can help answer your questions.
What technologies do you plan to take a look at while you are at BICSI?