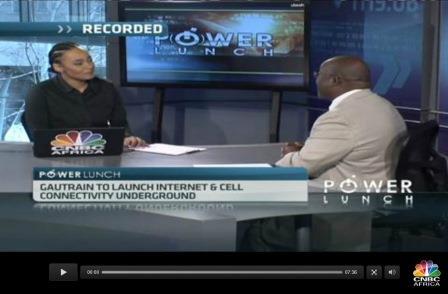 CommScope is involved in a
wireless project in South Africa
that is getting some press. Recently, an executive from the
Gautrain commuter railway
connectivity project
was interviewed by CNBC Africa
about it. Mzolisi Diliza, executive director of the investment company Strategic Partners Group, talked about bringing
wireless connectivity
to three Gautrain train stations with CommScope's help. I asked
Claire Nitch
, the regional sales manager for CommScope involved in the project, for more information.
Bill Walter: What is CommScope's involvement in this project?
Claire Nitch: CommScope got involved in this project back in 2007 when the Gautrain was first being built. The first construction phases of the Gautrain were all about building the railway. It wasn't until recently that it was ready for a dedicated wireless connectivity solution. For that, CommScope provided a complete turnkey solution including the system design, material supply, installation and commissioning. The solution deployed in the stations is a high power ION-M distributed antenna system (DAS). The master unit is located in one of the three train stations with the other two covered by remote units.
BW: How will commuters benefit?
CN: This project supports both data and voice services for Vodacom and MTN subscribers in the Gautrain underground stations at Sandton, Rosebank and Park Stations. By installing the DAS, the Gautrain partners are providing reliable wireless connectivity to commuters in these underground stations. That obviously will help commuters use their travel times more productively or at least enjoy them a little more with mobile services. Like in other markets, South African wireless users increasingly expect fast Internet speeds and reliable voice service wherever they are. The ION-M is a multi-operator DAS, which enables both South African wireless operators to provide this to their customers.
BW: What was the most challenging part of this project?
CN: Commuter rail projects are always challenging because work must not interrupt the train service. Construction mostly happens at non-rush hours, usually in the middle of night, which makes the logistics more challenging. It also takes skill and experience to install and optimize the network at the optimal service levels. CommScope is happy to have been helping the Gautrain team from the start.
BW: How will CommScope be involved in the future Gautrain projects?
CN: The next phase will bring dedicated wireless coverage and capacity to the tunnels via leaky feeder and in-train which will involve retrofitting equipment in the train cars themselves. CommScope will be involved in all of these phases, supplying equipment and services. I commend the entire Gautrain team, which involves the network operators and many other partners, on the successful completion of this first phase. I look forward to continuing our work together.