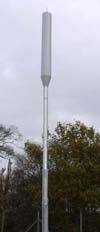 Wireless operators need to provide ever-increasing coverage and capacity to meet the growing demand for mobile data services. CommScope is helping its customers meet this demand with a new family of cell site products called Metro Cell Concealment Solutions. These solutions enable operators to better respond to mobile data demands by making site acquisition easier and deployment faster.
Metro Cell Concealment Solutions accomplish these goals by covering the antenna, cables and other RF equipment with an aesthetically pleasing radome. The result is a more compact, neutral site look that better meets the increasingly strict requirements of local zoning authorities. Better aesthetics and a more compact design make it possible for operators to achieve time critical site acquisition.
To further speed operator deployment, we use CommScope's full RF path portfolio of products to deliver a complete solution. This full RF path assembly is factory assembled and tested so that it can be shipped complete. Having a highly trained workforce install RF components and test RF connections in the controlled environment of our factory provides obvious installation speed and quality advantages over field integration.
Concealment isn't new, of course—macro sites have been going "undercover" for years. But with cell densification deployments becoming critical to address network capacity challenges, CommScope's new concealment solutions help by blending into urban and other high-profile settings, while simplifying installation and site acquisition.

See for yourself what some of these site concealment solutions look like by searching #RFconcealment on Instagram or Twitter, or go to CommScope's Instagram account. When CommScope announced its Metro Cell Concealment Solution last week, we also launched an online photo sharing activity. Our Instagram account now shows a number of concealed cell sites. Add to our collection by sharing a photo of a concealed cell site.
If you have any technical questions about metro cells or concealment solutions generally, leave a comment and I will try to reply.