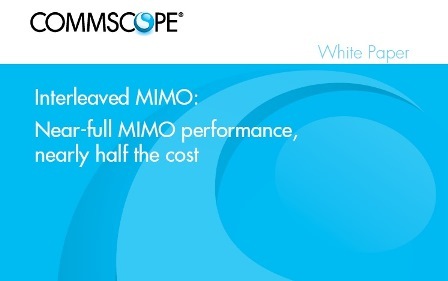 Over the years, the wireless industry has developed all kinds of metrics and benchmarks for measuring and comparing the value of new and emerging technologies. At the end of the day, the business case for virtually any wireless project comes down to the most basic equation: performance versus cost. If the result isn't a positive net gain (however you want to define that), chances are you'll have a pretty tough time convincing management to back it.
For in-building wireless network owners—especially those operating a distributed antenna system (DAS) in small to mid-sized facilities—making a convincing argument for investing in multiple-in/multiple-out (MIMO) capabilities in a DAS has been difficult. The cost of the equipment required to do MIMO over DAS has been restrictive. A new technology from CommScope may soon flip that equation on its head. More on that in a minute. Let's talk a little about MIMO.
There's never been any question regarding MIMO's ability to significantly boost network performance. By taking advantage of spatial multiplexing, traditional 2x2 MIMO (a.k.a. co-located MIMO) effectively doubles the network throughput compared to single antenna systems. The challenge is in the cost. Because the technology makes use of multiple parallel signals, every antenna element must be a complete transceiver in its own right. Consider for a moment what this means in terms of cost.
Upgrading to co-located MIMO DAS requires the installation of new antennas elements at each radio access unit (RAU) location; the cabling infrastructure supporting the RAU will need to be replaced as well. What's more, the separation requirements of a single-polarization versus dual-polarization antenna are very different, meaning the entire deployment may have to be re-configured.
When the upgrade needs to support LTE, the total cost is even higher. Because the LTE e-Node B supports 2 x 2 MIMO by default, its second antenna branch goes unused, so the extra baseband capacity of the e-Node B is essentially wasted.
In short, upgrading from a single antenna system to a 2x2 MIMO DAS approximately doubles the amount of infrastructure and associated installation costs and can more than double the total cost of ownership. This may explain why MIMO over DAS has mainly been limited to larger venues and facilities.
Recently, CommScope has introduced an alternative to co-located MIMO that delivers nearly full MIMO performance at half the cost. The solution, interleaved MIMO (I-MIMO), separates the access points by a relatively large distance and interleaves their branch signals. The resulting capacity performance is slightly less than, or in some cases equal to, that of co-located MIMO. Because I-MIMO requires no additional cabling or equipment, there is no cost to upgrade.
For owners of small to mid-size DAS networks, I-MIMO could be a game-changer. These smaller networks are no less challenged by the need for more bandwidth capacity, but typically can't justify the high cost of a traditional MIMO system.
To read more about this technology breakthrough, download CommScope's white paper: "Interleaved MIMO: Near-full MIMO performance, nearly half the cost". If you have any questions, leave me a comment.