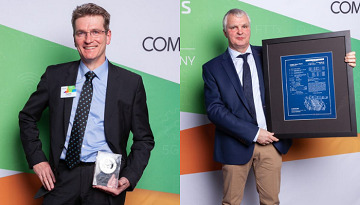 The world is currently undergoing a digital transformation. We are entering a new era where everything will be connected. The need for connectivity will further expand, and as a major player in the development of network infrastructures, CommScope is at the forefront of this innovation.
Our innovators separate us from others in the industry. As CommScope continues to foster new innovations, we also want to recognize all those who think of some really big ideas.
That's why we recently held our third Innovators in Action Summit in Charlotte, N.C. We recognized more than 70 global team members from 42 award-winning engineering and technology projects from 2018 that demonstrate the company's best agility, breakthrough, cost reduction, and customer impact innovations. During this event, we also presented our second lifetime achievement awards.
CLICK TO TWEET: Our innovators separate us from others in the industry. In this blog, we recognize our latest lifetime achievement award winners.
The 2019 Lifetime Achievement Award—Innovator was presented to Thomas Kummetz, PhD, vice president, Research and Development, CommScope Mobility Solutions. This award recognizes individuals who are distinguished by the depth and consistency of their technical contributions throughout their careers at CommScope.
Based in Buchdorf, Germany, and with more than 30 years of experience working in the telecommunications industry, including five years of research in opto-electronics, Kummetz has spent almost 25 years with CommScope. With 189 patents in 34 patent families to his name, Kummetz's most notable accomplishments include the four patents out of six held by CommScope that are essential for a digital distributed antenna system (DAS). His patent for distributed power over DAS is recognized widely as one of the high-value patents in the industry.
In this video, Kummetz discusses what innovation means to him and what the future holds for telecommunications.
U.S. Patent Number 6,504,986: "Optical Fiber Assembly" received the 2019 Lifetime Achievement Award—Patent. This award was presented in recognition of the patent's significant commercial impact for CommScope based on its overall financial and strategic contributions to the company. Erik Peeters, engineer II, Research and Development–Product Development, CommScope Connectivity Solutions, accepted the award for this patent granted in January 2003. Peeters is based in CommScope's Kessel-Lo, Belgium, facility.
The patent's Fiber Infrastructure System Technology (FIST) is one of the foundational platforms on which TE Connectivity's Broadband Network Solutions (BNS) organization built its fiber business for nearly two decades. CommScope's acquisition of BNS in 2015 included this important technology and its optical fiber assembly patent for a 50 percent increased density of connections on FIST patch panels shelves, from 8 to 12 connections per shelf. Patented in 33 countries, this patented idea of turning the adapter and providing openings in the shelves has been beneficial to customers though the increased density it brings.
In this video, Peeters talks about what it means to accept this award for this patent and how important innovation is to the industries we serve.
From everyone at CommScope, congratulations to Thomas, Erik and our more than 70 innovators for their well-deserved recognition this year.