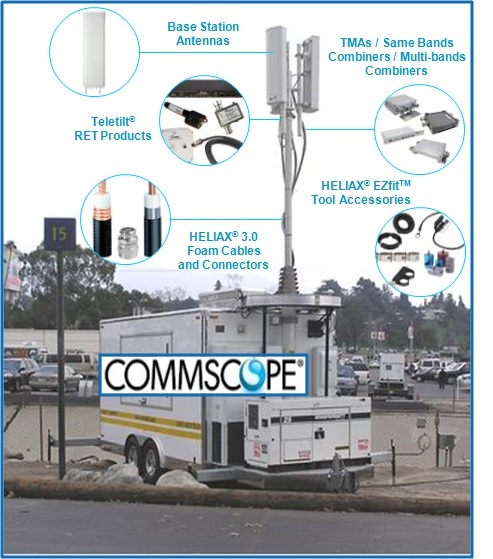 Wireless communications are an intrinsic part of life almost everywhere in the world. Hopefully your service is so good that you almost never have problems and can take it for granted. That's what wireless operators strive to achieve. But in many parts of the world, especially those experiencing natural disasters or war, wireless service is anything but certain and reliable.
Sadly, news reports are filled daily with stories of armed conflicts, earthquakes, hurricanes, and other natural disasters disrupting people's lives. Such situations often force people to flee conflict zones and devastation areas as refugees. Among other major concerns such as shelter, food and water, refugees need their mobile devices to work in order to stay connected with family. Large migrations of people challenge operators with sudden, highly concentrated numbers of users in one area. Operators often turn to COWs (Cell on Wheels) or other temporary cell site solutions to bolster wireless coverage and capacity in these areas.
Many operators have COWs deployed in their networks already. These COWs can be moved around to bring more services to areas that are subject to large migrations of people. However, the equipment on the COWs might not be able to support all the frequency bands that an operator needs to support in the new area. That is why CommScope created a special COW solution that includes almost everything an operator will need to upgrade quickly, bringing services to where people need them.
Our COW solution is customizable in terms of the spectrum bands and air-interface technologies it supports. It is an end-to-end solution that includes filters such as the multiband combiner, a dual band tower mounted amplifier, same band combiners, Andrew/Argus 4-port antenna, two cable feeders per sector and HELIAX SureFlex jumpers with HELIAX SureGuard weatherproofing boots.
The COW solution enables operators to speed up roll-out in times of crisis, when time to deployment is critical. It allows operators to expand their networks quickly to cover sudden capacity needs, as well as upgrade their existing COW infrastructure with new LTE technology, overcoming the limitations of a lack of space and lightweight poles. The mission is to get wireless services, voice and data, up and running where and when people need them.
Have you deployed COWs in your network? What challenges did you experience? I'd like to hear about your challenges in the hopes that we can help you overcome them in the future. Leave a comment below.