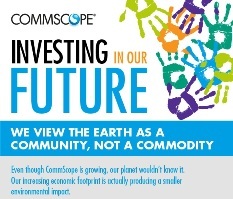 Have you read the newly-issued 2013 CommScope Sustainability Report? Can't blame you—it's been a busy week, time is fleeting and, well, you've had higher priorities.
I'm here to help! Check out this infographic, which summarizes key information contained in the 28-page report in an easy-to-read format. But don't stop there. Check out the complete 2013 report, titled "Investing in Our Future," which provides a detailed look at CommScope's efforts and progress to help make the world a better place today and, more importantly, in the future. It tackles the questions of our future by capturing the essence of our long-term commitment to:
The people we employ
The customers we serve
The communities in which we operate
The resources we use
The technologies we produce
The future we are creating together
To help you get started, here are a few things you may find interesting in the infographic and the report:
An increasingly-growing CommScope is actually shrinking its environmental footprint. For example, our energy consumption plummeted 64 percent and water consumption fell by about a third in a five year span.


We are making progress in creating a safer workplace and a healthier workforce, as evidenced by a 39 percent decrease in recordable workplace injuries since 2008.


Our solutions for customers are helping other businesses boost efficiency and reduce waste around the world. For example, our data center infrastructure management solution from iTRACS can improve overall data center energy efficiency and our Redwood intelligent sensor network can reduce operational lighting expenses by 70 percent and more.
At CommScope, we are focused on a better planet for the future. As we pursue creative ways to achieve more ambitious sustainability goals, we appreciate your continued interest and support.