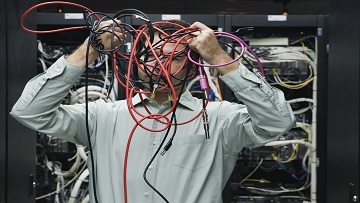 It's Throwback Fiber Thursday – CommScope's effort to re-post popular blogs from the last year that have to do with all things fiber. Do they still hold true? Do you see any changes? We'd love to have a conversation. Post your comments and questions below. This blog was originally posted on April 3, 2017.
Imagine you just bought a reading lamp for your home office. Instead of simply plugging it into a wall outlet, your only option is to run a power cord all the way down to the basement to connect it to the fuse box. If you decide to move the light into one of the bedrooms, you have to move it AND re-route the long power cord as well. Worse yet, if you want to use a different lamp from a different manufacturer, you need to run a different power cord down to the basement. Sounds annoying, right?
This example describes the data cabling world prior to the invention of structured cabling. Data cabling was point-to-point and vendor-specific, and the concept of fixed or horizontal cabling did not exist. Changing IT equipment vendors often meant having to replace the cabling as well.
Thankfully, all of this changed in 1983 when the first structured cabling system, known as Premises Distribution System (PDS), was introduced by Bell Laboratories. This system – which included cables, panels, cords and apparatus necessary to provide service from the network interface to the information outlet – was renamed SYSTIMAX in 1989. It formed the basis for the first structured cabling standard for data networks, known as Category 3, in 1991. With standards available, IT departments could design and deploy cabling infrastructure that could be easily installed and maintained, without the need to change it out as IT equipment was upgraded.
CLICK TO TWEET: It's a #TFT to a time when it made sense to have the right fiber in your network. Wait, that STILL makes sense.
A part of CommScope since 2004, the SYSTIMAX portfolio continues to lead the structured cabling industry – driving new standards with innovative copper and fiber cabling systems that allow our customers to invest in leading technology that supports multiple generations of applications while ensuring standards compliance.
The most recent example of this is LazrSPEED OM5 Wideband fiber. A member of the SYSTIMAX portfolio since its introduction in 2015, this advanced multimode fiber enables duplex transmission of 100G and higher bandwidth to practical distances in the data center. It also ensures backward compatibility with the substantial embedded base of LazrSPEED 300 and 550 fibers.
What kind of cabling are you using in your data center or enterprise? We want to hear stories and feedback because that's what helps us making our platforms even better. Like that office lamp, it helps to know that you don't have to go down to the basement to shine a light on a problem.