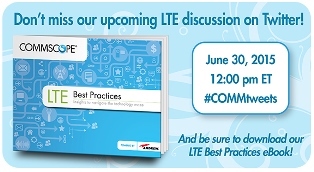 CommScope is hosting a Twitter chat on Tuesday, June 30 at 12 noon EDT, which will explore and offer advice about LTE network implementation. Some of our LTE network experts will discuss the challenges and opportunities of LTE deployment while offering best practice tips.
The @CommScope Twitter account will act as moderator. To join the discussion, just follow the hashtag #COMMtweets during the allotted discussion time. Tweet questions using that hashtag, and our experts will respond. They will also answer questions posed from the @CommScope handle.
Participants from all backgrounds are welcome to join and dialogue with our panel of thought-leaders, which includes network engineering experts Ray Butler, Mike Wolfe and Colin Bryce; head of wireless sales Ben Cardwell; DAS expert Patrick Lau; and VP of strategic marketing Philip Sorrells.
Here are the questions they will address in addition to submissions from participants:

What is the most challenging part of implementing LTE in your experience?
Why is noise an LTE challenge? What causes noise? How can you mitigate noise?
What is PIM? What causes PIM? How can you avoid PIM in the context of LTE?
How did LTE change tower cabling?
What challenges are involved with deploying fiber to the antenna (FTTA)?
Why is DAS important in the context of LTE demand?
What are best practices when it comes to deploying distributed antenna systems (DAS)?
What is important to keep in mind when considering outdoor site construction? How can infrastructure make or break LTE deployment?
What is important to know when selecting antennas for LTE? What are the best antennas for LTE?
How has LTE impacted backhaul? What are the top techniques for increasing wireless backhaul capacity?
Here are some helpful guidelines for taking part in the Twitter discussion:
Please introduce yourself (name, title and organization)
Use the hashtag #COMMtweets following each of your tweets
Please refrain from individual product/service promotions – the goal of the tweet jam is to foster an open and informative dialogue
Keep your commentary focused, thoughtful and on-topic
If you would like to discuss one of the below questions specifically, please begin your tweets with the question number to which you are responding
If you have any questions prior to the event or would like to join as a participant, please contact me here or via email at bill.walter@commscope.com.
And remember to access the new LTE Best Practices eBook before the Twitter chat to help as reference.