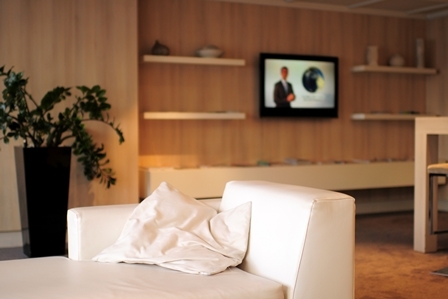 This post is part of a blog series about intelligent buildings, based on content from the CommScope Connected and Efficient Buildings e-book.
HDBaseT, a global standard for the transmission of ultra-high-definition audio/video and other technologies, has only been around since 2010. In that short time, HDBaseT has shown that there are many advantages and applications for the technology. Let's take a quick look at some basic technical advantages.
The first is HDBaseT's capability of transporting uncompressed 4K signals over 100m of twisted pair cable, preferably Category 6A (Cat6A) to satisfy transport requirements over a large range of possible installation scenarios. This is compared to HDMI's capability of only supporting up to 12m of cable. So, what is the advantage of this feature? This one is rather simple to answer. It opens up HDBaseT to many different applications, which I'll cover later in the blog.
Another technical advantage of HDBaseT is the ability to provide power on the same cable as that which is carrying the audio and video data. At first glance, this may not seem like much, but when looking at this from a cost perspective, it becomes much clearer. Many commercial applications of HDBaseT will involve installation of end-use displays. Savings on installation costs because the display does not require an AC outlet will be significant.
In fact, the savings that both of these technical features provides has led to quick adoption of HDBaseT. The low cost of twisted pair cable and RJ-45 connectors coupled with the ability to provide power directly to the display over the same twisted pair cable results in a superior cost benefit of HDBaseT.
Now, let's focus on some applications of HDBaseT. One very important use case is hospitality where there is a display in every room and quite possibly additional twisted pair cables running to each of these rooms. The capability of having an infrastructure that can support 4K signals is large. What other environment requires a large number of displays? How about hospitals? Healthcare could be another significant market for HDBaseT applications.
The HDBaseT transmission technology presents clear advantages over traditional cabling methods through its superior technical features and wide range of applications. A variety of applications can benefit from it technologically and economically. To learn more about HDBaseT, including our implementation recommendations, check out the CommScope Connected and Efficient Buildings e-book. Leave me a comment with any questions.