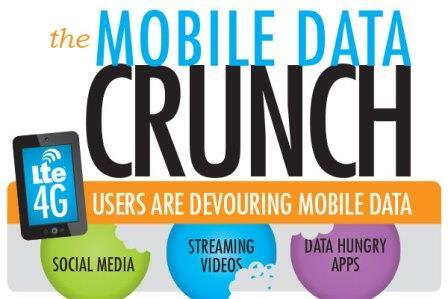 For those of you who don't follow the news about the wireless industry as closely as I do (well, sort of closely….but my boss reads these posts, so bear with me), CommScope has a new infographic that puts some numbers behind the common claims about the "mobile data crunch" or "data tsunami." The data tsunami is basically the reality that since smartphones and tablets began enabling mobile access to the Internet, the amount of bandwidth that device users are accessing has grown tremendously.
For example, did you know that:
Watching one video on a smartphone uses the same network capacity as sending 500,000 text messages simultaneously?
If you converted into weight the increase of one US operators' mobile data traffic from 2007-2013, it would be like a newborn baby growing to be as heavy as a Volkswagen Beetle?
These are just a couple examples from our new The Mobile Data Crunch infographic. Check it out for some more statistics about how enormous this growth in mobile data usage has become. These are the kinds of numbers that keep our network operator customers up at night, wondering how their networks will continue to manage this traffic in the future. It's a major pain point that CommScope is busy devising solutions to help remedy.