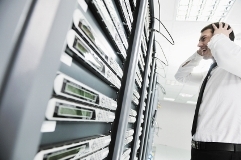 The internet has changed everything. Connectivity and faster data speeds have created an addiction to internet protocol (IP)where society has reached a point that being able to share images, updates and video is a must. The growing need for IP has resulted in a massive amount of data that shows no signs of topping out. In turn, this growth causes a data center dilemma in which challenges for optimizing power and operational efficiency occur.
Some of the options available to resolve this dilemma are intelligent infrastructure solutions such as DCIM, high-speed flexible cabling and intelligent lighting. What do you think is the optimal solution for your data challenge? Some believe these are too costly or not entirely well-thought-out from the perspective on an all-encompassing solution. With technology moving at a rapid pace, there are many aspects to the challenge that must be considered.
To learn more about these trending data center dilemmas and available intelligent solutions, CommScope will host a one-day webinar in six languages starting with my presentation on October 1 at 10 a.m. IST (11 a.m. GMT). The presentation, Data Centre Dilemma –Building For Efficiency and An Unknown Future, will feature material on this topic and dive further into this discussion.
The webinar presenters, languages and dates are found below. If you register and are unable to attend the webinar at the time listed, fear not—a link to a recording of the webinar will be emailed to you. To register for the webinar, click on one of the following options:
Willie O'Connell (English) – October 1
Davide Badiali (Italian) – October 3
Chris Putman (Dutch) – October 4
Jean-Luc Esculpavit (French) – October 4
Michal Matyla (German) - October 4
Alberto Martínez (Spanish) - October 11
I hope that you can join us to be a part of an in-depth look into what brought enterprise data challenges to where they are now. Feel free to leave a comment if you have any questions about the presentation material and I will be sure to respond.