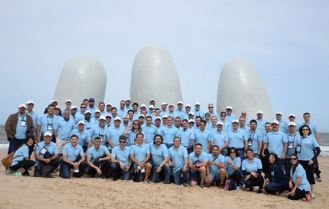 Top CommScope Partners and key distributors from around the CALA region attended the annual Partner Challenge event, which took place in Punta del Este, Uruguay.
A lot of memories came to my mind after almost 10 years hosting the Partner Challenge summit for CALA. Each year there was one thing that happened to make that year memorable. This year it was the windy weather (60MPH/100KM) on our last day which was so bad that the local airport and local pier had to close. What we originally thought would be a nightmare, in my opinion ended up being one of the biggest memories. That extra night enabled each group the chance to work without a set program, doing what each attendant know well -- partnership.
The people from Argentina went to Montevideo; the Brazilians stayed in Punta del Este; my friends from the Caribbean spent a night in Panama. All this because of flight cancellations. At the end, they made more great memories to take back home -- that is what Partner Challenge all is about.
Even before the excitement of the last day, the group participated in a variety of sessions that focused on:
The need to become a trusted advisor to their customer.
The value of a CommScope partnership to help companies develop 2017 strategies while working more effectively together.
Team building and collaboration through social activities to improve the meaning of partnership for our business family.
The main theme of the event was on the value on being in the CommScope PartnerPRO program. The program was developed to provide a formal and consistent business experience with our partners and to develop a better business within key vertical markets.
The most anticipated moment was the Awards Night. This is the time where each year we award the top performers partners in:
Sales
Projects development
Trainings
High end solutions
Warranty System program
As a market leader, CommScope is always looking to the future, anticipating new technologies, and innovations, while providing business support needed today. CommScope understands that customers are no longer looking for just a cabling solution. They are looking for support applications that allow then to provide better facilities and services to their customers, whether that be a large service provider or a small company looking for the proper data center.
For more information about the PartnerPRO Network, click here.