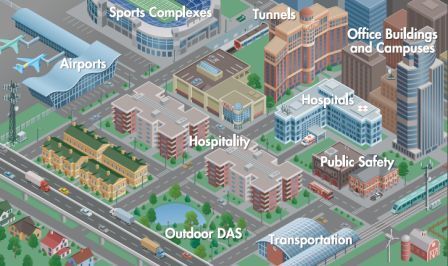 During the peak hour of wireless data traffic at the 2011 Super Bowl, 27 gigabytes were sent over the distributed antenna system (DAS). Two years later at the 2013 Super Bowl, 58 GB were sent during the peak hour. That is more than a 100 percent increase over just a two year span.
As I have been thinking about what to discuss as part of "The Evolution of DAS" panel at the PCIA Wireless Infrastructure Show (Wednesday, October 9 from 3-4 p.m.), this fact stood out for me. Thinking generally about DAS, what has changed foremost since its infancy 20 years ago is the amount of traffic travelling across the wireless network.
Think back 10-15 years ago. You likely had one of your first mobile devices, which you used for calling people and maybe texting. (You also possibly played very primitive mobile games like "Snake" on your phone, but that's another story.) You knew that inside some buildings, you needed to stand near a window to get a signal or you wouldn't get one at all.
Flash forward to today. You probably have a smart phone, which you use for email, web viewing, gaming, texting, various social media applications, photo sharing and maybe a few phone calls. You can stream video on it when a friend sends something funny. And you probably expect that you should be able to use these services wherever you are, whenever you want, including at crowded sporting events, in hospitals, on college campuses, at concert halls and inside the mall.
DAS networks have evolved to meet these changing demands. Initially a DAS was all about bringing coverage to areas where RF signals could not reach but which had a high concentration of users-airports, train stations, stadiums, casinos, hotels, etc. As smart phones and data demands increased, DAS were deployed not just for coverage but to help with capacity. More traffic was coming through the network that needed to be supported. In the most recent years, data demands have surged as exemplified by the Super Bowl numbers.
We are now in a high capacity demand world, where operators are greatly increasing the number of sectors in the DAS networks. A sports arena that used to be divided up into five sectors today might have 30-40 sectors. That increase brings more equipment and complexity into the DAS, making network design, installation and optimization more challenging. That complexity is what CommScope's latest DAS platform, the ION®-U (.pdf), addresses and simplifies with new intelligent features embedded into the system.
To see what I mean, come to CommScope's booth at the PCIA Wireless Infrastructure Show to see a live demo of the ION-U. You will be able to see how the cabling wizard helps assure proper installation, in addition to the self-optimizing features of the ION-U. Our booth is located in the Small Cell Pavilion, reflecting our belief that DAS is the original small cell.
So what other changes have you seen in DAS over the years?