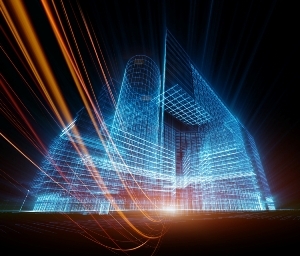 The future is finally upon us. For the past
several years
, industry pundits have
predicted
that
bandwidth needs
in the building
will exceed 1 Gigabit
(G), and that infrastructure decision makers would need to be ready to
support this requirement
. To
properly prepare
for this reality, CommScope has long
recommended Category 6A
for
new installations
. Since
Category 6A enables 10G speeds up to 100 meters
, it is a prudent way to
prepare for future bandwidth needs
.
Many sources state that the average lifetime of cabling in a building can be for 15 years or more. It is often not cost effective or even feasible for building owners to rip out and replace cabling that has been installed for several years, and the decision to retrofit cabling to accommodate higher bandwidths is pushed to the side. As a result, we see most new installations going with Category 6A, but we still see a very large legacy installation base of Category 6 and 5e.
With the advent of 802.11ac Wi-Fi – the first major application to exceed 1G requirements – network managers in existing buildings with legacy cabling are stuck between a rock and a hard place when trying to decide between two difficult choices—limiting the capabilities of their Wi-Fi network by deploying it over an existing 1G infrastructure, or ripping and replacing the entire building cabling. This is not an easy decision. To address this concern, the NBASE-T Alliance was formed in 2014. The intent of the alliance is to promote the development of 2.5 Gigabit and 5 Gigabit Ethernet solutions over twisted pair that customers have already installed. While installing Category 6A is still a good way to go for new builds, the efforts of NBASE-T is to enable the existing install base to reap the benefits of higher bandwidth solutions.
On April 28–30, CommScope will join the NBASE-T Alliance in its booth #1254 at the Interop show to demonstrate 2.5 and 5 Gigabit Ethernet solutions. As the first cabling vendor to join this alliance, and only cabling vendor supporting the Interop demonstration, CommScope is continuing its tradition of industry and standards leadership to develop and promote new networking solutions and technologies. We are investigating real world use cases and deployment conditions of existing cabling installations so we can provide guidance and support for customers who decide to deploy NBASE-T technologies.
One thing we do know is that NBASE-T technologies will only be as good as the cabling on which they are deployed. CommScope is committed to providing guidance around how to be successful in this space, whether it's with Category 6A for new installations or describing deployment conditions for existing Category 6 and 5e installations.
If you have any questions about the NBASE-T Alliance or the CommScope Ethernet solutions for the enterprise, leave a comment below and I will be sure to respond.