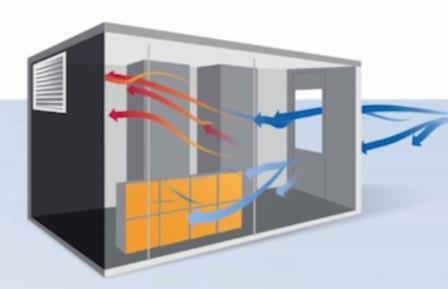 Free cooling
is not a new concept in the
wireless industry
. It is basically an
alternative
to the typical refrigeration technique of air conditioning—think freon and window units at your home. By contrast, in free cooling,
naturally cold air
or water is circulated past the active electronic equipment in cell site shelters and enclosures to evacuate the excess heat.
Network engineers
have been exploring and deploying free cooling solutions for years because they
lower operating costs
while protecting radio equipment.
Free cooling is even more attractive today due to rising energy costs and the increased heat resistance of electronic equipment. Energy and carbon savings rank among the top of our customers' corporate responsibility agendas. And with the information and communications technology (ICT) sector having overtaken the airline industry in terms of energy usage, there is a lot of energy to be saved. When free cooling techniques are deployed, they can save 15–25 percent of a site energy bill, depending on the selection of site heat load, ambient climate and set points.
But not all free cooling solutions are the same. And free cooling can have some drawbacks. It is sometimes difficult to implement, often needs maintenance and offers limited cooling capacity.
CommScope believes its Alifabs Monitor solution offers some unique benefits that address these drawbacks. Sustainable high performance enables Monitor to offer a quick return on investment and a low total cost of ownership. Additionally, we are working on a new solar-powered Monitor platform that brings free cooling into the future with the hope of zero emissions and energy costs.
I will explain more about Alifabs Monitor and the challenges involved in the various cooling options in the upcoming The Future of Free-cooling webinar on October 6 at 2:00 p.m. British Summer Time (9:00 a.m. Eastern). Sign up for the free webinar and discover how to keep your cool while keeping your bottom line—and the environment—intact.
In the meantime, leave me a comment if you have any questions about free cooling or Monitor. I'll happily respond.