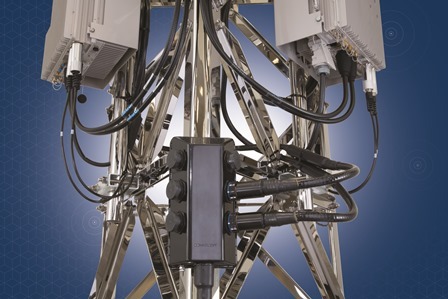 When you go to a networking event, you are likely to be asked is, "What do you do?" My standard answer is that I make wireless connectivity possible, but that I actually provide wires to do it. The backbone of wireless connectivity still includes many wires, and my role at CommScope involves overseeing the cabling product lines used in wireless networks.
Wireless network cabling has changed significantly in the 4G, soon-to-be 5G, era. In the earlier generations of wireless, the most common cell site design had big, bulky base station radios at the bottom of cell towers with coaxial cables connecting the radios to the antennas at the top of the tower. With coaxial cables, the choice of cable generally boils down to the overall link budget. The amount of loss allowable between Point A and Point B such that the overall system can provide the planned coverage is what determines product selection.
CLICK TO TWEET: The Future of Wireless Is Still Wired


But our collective demands for wireless have increased over the years. We want more coverage and greater capacity from our networks, especially for data services like streaming video. We expect networks to be more efficient. These demands have required bringing radio functions as close to the antenna as possible to reduce transmission line losses. Now, fiber optic cabling has overtaken coaxial as the preferred medium.
The choice of fiber over coaxial is predicated on the much lower losses and higher overall capacity that only fiber cables can provide. The remote radio units now placed at the top of towers are active devices, requiring both data connectivity through fiber and power. This newer type of site design is called fiber to the antenna (FTTA), and there are different ways to provide the connection.
Site architecture choices in FTTA are made based on economics, upgradeability and flexibility trade-offs. They depend on tower loading considerations, the leasing costs that network operators pay to tower companies, vendor selection criteria, and overall economics. Some of the options are:
Each base band unit at the bottom of the tower could be connected directly to each remote radio at the top, using multiple runs of fiber cables up the tower.
These same connections could be made with fiber bundled in what is called a fiber trunk, so that only one run of cable goes up the tower.
In an even more bundled scenario, the power line gets added into the mix, and power and fiber cabling all get bundled together in a single cable.
All the cables could go directly into the remote radio units or go into distribution boxes that enable easier upgrades in the future.
If you are interested in the wires in wireless networks, and want to learn more about the options for FTTA architectures, check out our enhanced "Understanding the RF Path" eBook, chapter six. It might not help you at networking functions, but it certainly will help you understand the evolution of wireless (and wired) connectivity.