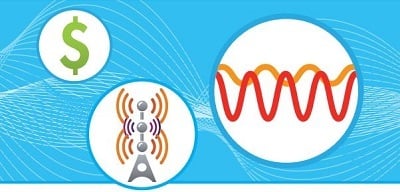 Are you a movie fan? If you are, then you may assume that IMF stands for Impossible Mission Force, led by Ethan Hunt in his Mission Impossible movie series. However, it has a different meaning within the networking industry, which is facing another seemingly impossible mission: removing in-band interference. For this reason, CommScope has designed interference mitigation filters (IMF). But don't forget, "As always, should you or any of your I.M. Force be caught or killed, the Secretary will disavow any knowledge of your actions. This message will self-destruct in five seconds. Good luck!"
The Leakage Problem
Cordless phones, baby monitors, garage door openers, wireless home security systems, keyless automobile entry systems, and other types of common electronic equipment rely on low power non-licensed transmitters, or unlicensed spectrum, to function. This can be a headache for Wi-Fi users because the closer the non-licensed transmitter, the greater the chance for interference, according to High Tech Forum. No wonder you may have had a bad connection the last time you were in the airport!
My family and I are among millions in the Middle East who are streaming videos, playing games, ordering food and monitoring health from our smartphones. Mobile phone operators rely on expanding these types of valuable services to maintain loyalty and generate revenue. As a result, spectrum, the lifeblood of the industry, is auctioned off by governments who determine which frequencies can be used by cellular operators. Service providers compete in auctions and pay millions of dollars for spectrum allocation. Consequently, one would assume that no one else in their territories should be allowed to use it. Well… sort of!
In the real world, electromagnetic interference is a common problem. It might happen that your local regulator didn't do a great job in its spectrum allocation plan—and your sensitive uplink bands are adjacent to other high-power downlink transmitters. Due to cost and size implications, neither the transmitter (DL) nor receivers (UL) in base stations, have sharp enough filters. This results in the shown overlapping area that passes co-channel interference to the receiver and saturates its reception.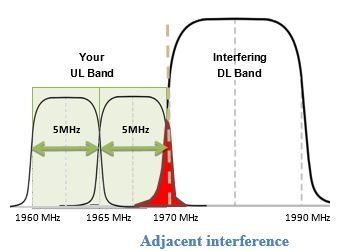 This example shows a real-life case, where a CDMA DL channel was adjacent to a victim WCDMA UL one.
The IMF solution
In most cases, the offenders will not clean up the mess, leaving the victims—which might be you—looking for solutions. Luckily there is one: the IMF. IMF solutions include both fully customized designs as well as a complete line of existing solutions that can be adapted for specific needs. IMF technology can be incorporated into a variety of filter types and designs, including ceramic, cavity, stripline, crystal, SAW, tubular and adjustable filters. The resulting solutions can then be deployed as standalone filters or integrated into tower-mounted amplifiers and combiners
If we add an IMF to the previous example, the IMF filter response (shown as a blue line below) significantly removes majority of the interfering overlapping area.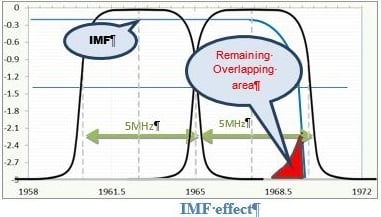 One last thing...
The technology can be deployed immediately or customized to fit business requirements. The design criteria should balance between the filter's sharp response shape, as in rejection and insertion loss, versus its resulting size, weight and cost.
CommScope is ready to make your mission possible. Check out more details by reading the whitepaper, "A planning guide to optimizing networks for capacity with practical field examples."