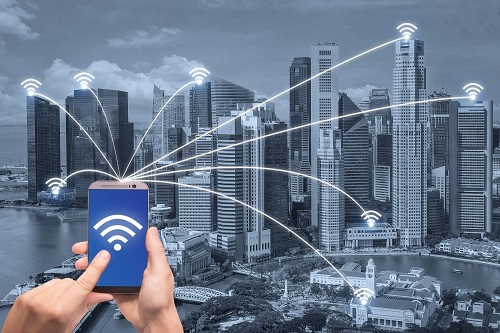 This blog is part of a series highlighting current events, real-world examples of network convergence, and industry trends demonstrating why consumer habits will drive more integrated and efficient networks. Consumers expect quick and seamless connections so they can access the information they need wherever and whenever they need it to accomplish the things that matter most to them; therefore, leading to the necessity of network convergence.
Many times, when people hear the term "Internet of Things (IoT)," they either have no clue what it is or immediately think of the new Amazon commercials about the dad turning on his sprinkler system to get rid of an unwanted guest or the mom accessing information about poison oak symptoms. Generally defined as connecting normal objects to the Internet to be able to send and receive data, IoT is a relatively new concept, but is becoming vastly more important to the lives of many consumers.
While most IoT topics focus on smart devices, many consumers are more interested in how these devices can meet their specific needs—such as saving time, accessing important information and creating more efficiency in their lives. As consumers increasingly depend on IoT devices—even perhaps without realizing it—network convergence plays an imperative role in helping operators meet consumer IoT demand.
Time-saving technologies
According to Gartner, consumers will invest in more than 26 billion IoT devices by 2020. Many individuals will be investing in IoT because they want to save time by automating processes. This enables them to focus on what is important to them, such as their families, jobs and hobbies. The new Mercedes-Benz commercial is one of the best examples I have seen regarding how modern families integrate IoT devices into their normal lives to save time and prioritize important activities.
While IoT devices can help save time, they are only as good as the network infrastructure on which they run. The challenge for operators is to ensure that networks are converged so IoT devices can run quickly and effectively.
Real-time information access
Another reason the IoT industry is expected to generate approximately $11 trillion in value to the global economy by 2025 is that consumers have become dependent on the ability to access information at any time.
Constant access to real-time information will be a major driver for consumer investment in IoT. Cisco analysts estimate that, by 2020, the total amount of data from IoT will be around 600 zettabytes per year—275 times higher than current data traffic being sent from data centers to end-user devices.
The transfer of this data relies on networks—and, even more importantly, on the quality of the network. As IoT devices become more valuable in accessing information, the value of a quality network will also increase; therefore, network convergence will ultimately play a major role in rapidly delivering information to consumers.
Enhancing efficiency
Many current IoT devices are focused on increasing efficiency, such as the Nest thermostat, which automatically adapts the temperature of a home to increase efficiency and reduce energy costs. But consumers not only want these devices to provide efficient results, they also want their experience with these devices to be efficient. Rather than having to set up two or three systems for a device to work, they want one consolidated platform that is easy to install, use and benefit from.
Just as consumers rely on the efficiency of their IoT devices, IoT devices rely on the converged efficiency of the network infrastructure on which they run. To increase the efficiency of their infrastructure, operators are focusing on how to converge their networks.
Advances in IoT device technology are still relatively new. Consumers are still trying to figure out how they want to integrate IoT devices into their daily lives. This is a perfect time for operators to focus on how to best monetize the future of this growing industry. Converged networks will play a pivotal role in ensuring that consumers can fully utilize IoT technology to enjoy an increasingly digital lifestyle.