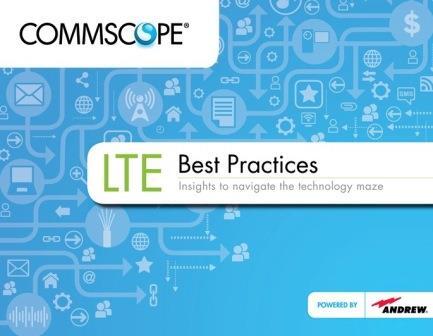 The latest statistics from the GSA (Global mobile Suppliers Association) state that 422 wireless network operators have commercially launched LTE in 143 countries. Of those, 106 operators commercially launched LTE service in the past year. 677 operators in total are investing in LTE across 181 countries. And since day one, CommScope is proud to have supported our customers with their LTE implementations.
Much of the knowledge we've acquired along the way is accessible to you, too. We compiled it in the LTE Best Practices ebook that we announced at Mobile World Congress 2015. The ebook is filled with answers, tips and insights that we hope will help you demystify LTE implementation complexity. Each chapter includes real-world advice for equipment selection, environmental practices and network installation. It is available free of charge and can be downloaded as an app on tablets and smartphones.
In addition, each of the authors who contributed a chapter to the ebook has now written a blog post as part of a blog series. We got the ball rolling by announcing the blog series back in April. After that, Ray Butler took us deeper into the important topic of managing interference to get the best LTE network performance. Erik Lilieholm followed that up with the related subject of noise and the metaphorical value of silence in LTE networks.
Rob Cameron started the conversation about passive intermodulation (PIM) in his blog post about co-siting. PIM is a basically a source of interference which can strongly and negatively impact LTE networks. Lou Meyer talked about how to avoid PIM and included links to some of our PIM tools in his blog post.
Chris Stockman turned the conversation to the network infrastructure equipment that supports LTE, namely that used in fiber-to-the-antenna (FTTA) applications. Luigi Tarlazzi wrote about how LTE affects the design requirements for the leading in-building wireless solution, the distributed antenna system (DAS). Mike Fabbri wrote about best practices for cell site installations, while Mike Wolfe contributed a blog post with suggested criteria for selecting the right antennas for LTE networks.
Donald Gardner penned a post about the overlooked importance of wireless backhaul in LTE networks and the evolution of microwave antennas. I then rejoined the conversation with a post about small cell applications and a new way of thinking about them.
And that's it for the LTE Best Practices blog series. Of course the conversation doesn't end there. LTE itself continues to evolve to LTE-Advanced and newer Release versions of the technology standard. CommScope will continue to evolve with it, helping figure out the always tricky part of making theory into reality in real-world network deployments.
We will also continue to offer insight to the industry whenever we can. Our Holger Raeder just did a webinar about "Capacity & Throughput Enhancements in LTE Networks," which you can watch on demand. Look for more information including more ebooks to be coming in the near future.
So how are your LTE implementations going? Any lingering questions? Leave me a comment, and I'll reply.