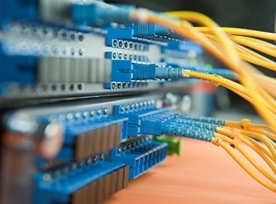 The last couple of years saw Ethernet celebrate its 40th birthday, with a lot of reminiscing about the early days and Bob Metcalfe'slegendary Ethernet drawing that got it all started.
At the recent 2015 Optical Fiber Communications and Conference Exposition (OFC), the Ethernet Alliance presented its 2015 Ethernet Roadmap, which reviewed the Ethernet standards activities to date. More importantly, the roadmap looked to the future – where speeds of 1 terabit per second and beyond are forecasted.
The ability to support faster speeds has certainly contributed to the ongoing success of Ethernet. Additionally, we are also seeing new standards being developed at lower speeds to support new applications over existing cabling, such as 802.11ac for Wi-Fi. In fact, when we look to the IEEE 802.3 working group, which is responsible for developing Ethernet standards, there are 14 activities in process covering speeds from 100Mb/s to 400Gb/s. Needless to say, the working group committee members have been very busy.
For those designing and managing IT networks, the need to keep up with the new Ethernet standards is important. But if that isn't enough, there is also the fiber channel and associated cabling standards in TIA, ISO/IEC and CENELEC that need to be considered.
To help keep up with these activities, CommScope has been publishing a quarterly report, known as the Standards Advisor that keeps track of the recent activities in these standards bodies. The latest edition, covering the first quarter of 2015, can be found here.
CommScope also had the opportunity to work with the Ethernet Alliance at OFC on an interoperability demonstration, providing fiber connectivity between several datacom equipment vendors. As discussed in this video interview with Joe Livingston, the demonstration involved network speeds ranging from 10G to 40G to 100G that were implemented on pre-terminated cabling in a multi-vendor environment.
If you have questions about the Standards Advisor or the latest Ethernet standards activities, leave a comment below and I will be sure to respond.