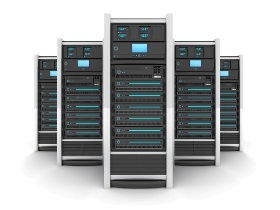 This blog is the last installment of a six-part series discussing data center challenges and solutions
In my previous post, I talked about the importance of lowering power usage effectiveness, its range of challenges, and how it should now be a priority for enterprise level organizations and data center managers.
Enterprise level organizations such as multinational corporations, governments, banks andinsurance firms rely on expert advice and support to assist them as they provision and operate data centers. Thanks to their sheer size, enterprise organizations now have more data center options than ever before. They can choose from hosting, cloud and hyperscale data centers. Recent research conducted by IDC and Gartner showed that rising server sales have been driven by increased investment in hyperscale data centers. Notably, hyperscale data centers are growing rapidly and in the process of setting new operational standards that the enterprise operators can use as benchmarks for their own operations. There are many opinions on the future of enterprise computing and decisions can seem clouded. One thing that is for sure, efficiency in delivering data center services will be competitive. That means enterprises will need to compete with hyperscale, cloud and other multi tenant data center models.
Data center dependency
The competition among data center services is driving an increasing reliance on state-of-the-art data center capabilities resulting in a shift in thinking. Multinational corporations need to ensure good return on investment (ROI), so naturally, they will be looking for good value-for-money providers to ensure that their data center remains effective and efficient for the next several years. This meansworking with a partner to develop this competitive vision and strategy for data center capacity.
Modular data center designs fit this approach perfectly. A modular data center addresses business needs by delivering capacity and efficiency that large organizations require where and when it's needed. Capacity and cooling have both become such significant factors than hosting organizations face significant challenges in providing a cost competitive facility. It has reached the point where even multi tenant data center operators have seen the need to make purpose-built data centers to help provide greater efficiency and maximize the use of free cooling. If they do not, their customers become less competitive as their base facility costs will exceed those of their competition. So there has definitely been a shift in the market to a more socially responsible approach that ensures regulatory compliance and proactively drives data center efficiency.
The influence of the big players
Something else worth mentioning is the ways in which IT equipment developed by giants like Google and Facebook are now influencing the way data centers are designed and built. There has been a shift in the data center from one large machine doing everything tothousands of small machines doing the same thing. This helps maximize resources and ensures that not all eggs are put into one basket, while simultaneously reducing computing costs. This represents a change in business model and strategy that some believe will disrupt the balance of the IT industry. As these technologies filter from the hyperscale world and become adapted for use in enterprise computing, it will provide many customers and suppliers alike with tremendous opportunity to innovate connected and efficient data centers.
Ensuring the last mile
Recently we have observed many multiple system operators and carriers that are now experiencing an evolution in their processes and operations that seems similar to enterprise organizations. Sometimes theyconsolidate their data centers to save money and improve operational scale. Other times, they build geographically dispersed facilities to better service the customers they serve. The last mile comes into its own because one thing they all have in common is our dependence on the last mile to bridge people and information together. Network connectivity and latency of information builds application bridges that deliver business value.
The mix of different operating models will likely always remain with some organizations being less dependent on the IT equipment they use choosing instead to outsource all their IT or software needs to an expert third-party supplier. Since the data center is the core of their business, others may choose the alternative path. There will always be a mix of customers somewhere in the middle. Hybrid models that comprise a mix of the enterprise's own cloud and IT, and the usage of other services where required also seem to have a place (Datacenter Dynamics, March 2015 page 7). Ultimately, the network remains vital for any of these strategies to succeed.
To summarize my blog series, I believe that the landscape, particularly here in Singapore, remains very promising; particularly as government and organizations continue to recognize the importance of energy efficient data centers that can scale to operational needs. Industry adoption of greener IT equipment and modern cooling designs become the widespread norm. As the Internet of Things continues to come to the forefront, data center managers will have to manage more servers, server virtualization and storage capacity all at the same time. It is a good time to start planning accordingly and leverage the solutions available for a successful, effective future for your data center.
If you missed anything, you can revisit all the previous blogs from this series by clicking the links below:
Do you have a question about the challenges and innovations for the modern data center? Leave a comment below, and I will be sure to respond.