Some events capture historic shifts in society. The recent news that New York City is converting some public payphone booths into free WiFi hotspots may be one such moment. Who could have imagined such a thing a generation ago, when phone booths and payphones were literally on every street corner (sort of like certain coffee chains are today)?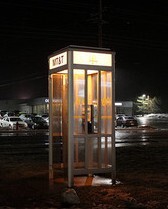 Public payphones and phone booths have played a central role in life for over 75 years before being made almost obsolete by cell phones. They are where Superman changed his clothes, Melanie escaped attack in The Birds, Colin Farrell's Stu Shepard was emotionally terrorized and Ron Burgundy had a meltdown. They are where kids hunted for spare change in the coin return slot. And phone booths are cultural icons in England, likely photographed by tourists more than they're used by locals.
This conversion of landline phone booths into WiFi hotspots is just another symbol of the communications trends we've been experiencing for years, so it shouldn't be a shock that the place where coins were dropped into a public phone is now enabling mobile broadband data services. What's surprising is how starkly this shift stands out when it's done in the very phone booths that once symbolized "modern"—and starred in Hollywood, to boot.
In what other movies have payphones played a role? What do you recall from the glory days of payphones and phone booths in our society?