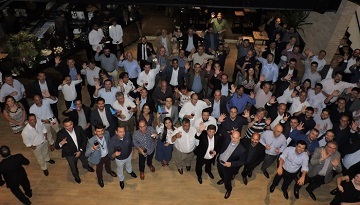 Our partners are ambassadors of our brand and trusted advisors of our technologies and solutions to our customers.
CLICK TO TWEET: In this blog, Elayne Martins celebrates our partners in Brazil.
One of our highest priorities is for our partner community to have the best-in-class workforce to provide services and consultation to our clients. It is just as important for our partners to add value to our products.
The majority of our solutions are sold with and through partners, so we are continuously listening to partner feedback and investing how to improve our support of our partner program, enabling our partner ecosystem continued growth at the level of excellence expected by CommScope customers.
Two weeks ago, we hosted our annual Brazil Partner Kick Off in São Paulo, Brazil. The energy around the environment was contagious. There are positive expectations for 2019, and the all audience was anxious to listen our key messages related to:
Market trends and new products launches.
A new portal for partners with access to trainings, corporate content, sales training, and marketing resources.
Enhancements to simplify the partner incentive program.
An overview of our sustainability program "green program."
CommScope is always looking to be ahead of the market needs, and we want our partners to be prepared with us. Our PartnerPro Network community is one of the most valuable assets we have and over the years we have grown along our partners. We will continue to win big with them.