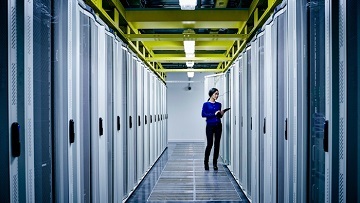 (Note: The following has been submitted as a guest post to CommScope Blogs by Jay Lowden, account manager at LINX. LINX is a member of CommScope's PartnerPRO Network and provider of IT networking solutions in the United States. Opinions and comments provided in this guest post, as with all posts to CommScope Blogs, are that of the author and do not necessarily reflect the views of CommScope.)
The building is fully-wired and ready. The service provider is connected to the handoff point; however, it is 150 meters from the minimum point of presence (MPOP) in the building. At this distance, the tenants are separated from the high-speed internet essential for the work place.
CLICK TO TWEET: Jay Lowden explains why a backbone pathway is needed for connectivity.
Surprise! It is discovered that the building owner, not the service provider, is responsible for the circuit extension (backbone pathway). This pathway extends the circuit from the Metro Area Network (MAN) to the building entrance facility via single-mode optical fiber. That's why this critical expense should always be accounted for earlier versus at the 11th hour.
Business owners and IT managers know high-speed internet is essential for productivity in the work place. A building with little or no connectivity does not work, literally. The typical means of connecting to a service uses optical networks for a single company or multi-tenant building. Cables or fibers run into optical connections located in the entrance facility (main telecom room). These rooms are also referred to as MPOP or the DMARC (DeMARCation) point. At that point, the service provider supplies a router as a handoff point somewhere outside the building. But this leaves a gap in service from the handoff point to the building and a backbone pathway is needed for connectivity.
This pathway can connect with an aerial application (pole-to-pole) or an underground trench/bore. Entry into the building may come through the roof or conduit running up or down a wall. A rigid conduit may be required depending on the composition of the outside plant cable jacket. Copper is typically used when the circuit extension is less than 90 meters from the IT equipment room. A standard cable with an 8-pin modular jack connection at both ends can integrate into a local network with copper patch cords.
When the distance is greater than 90 meters and the handoff is a copper interface, media converters are connected to the router using a copper patch cord and extended throughout the building with optical fiber cable. Signals are transmitted optically, converted back to copper, and patched to the network in the IT equipment room. The other option is to simply install optical fiber from the router to the network equipment using an optical fiber interface.
When planning, don't forget a proper backbone pathway to insure optimal connectivity and be better prepared for the construction game.