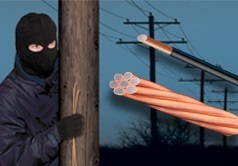 Approximately 95 percent of all North American utilities, including electric co-ops, are directly impacted by copper theft. Each year, the cost of public utility-related copper theft comes at a price of approximately $60 million and 450,000 minutes of outage time. That doesn't include another important issue—the unnecessary loss of life when thieves' actions do not go according to their plans.
During the past eight years, copper has risen in price by more than 200%, and copper theft has seen a dramatic rise as a direct result. So, what are other options to deploying pure copper?
Copper clad steel is seen as a long-term investment that shows significant returns on day one of installation. Electrical utilities in North America and abroad have shown substantial savings and have greater "peace of mind" now that they have converted to copper clad steel for grounding.
During the 2013 TechAdvantage® Conference and Expo, held in New Orleans last February, Jim Hixson from N.W. Electric Power Co-op in Missouri joined our Stephen Oaks to present about our award-winningGroundSmart® Copper Clad Steel. You'll learn from the video, included in this blog post, how thieves affected his co-op and the success it had deploying our copper-alternative solution. I welcome you to watch their presentation. If you have any questions, I ask that you include them in the comment section below.